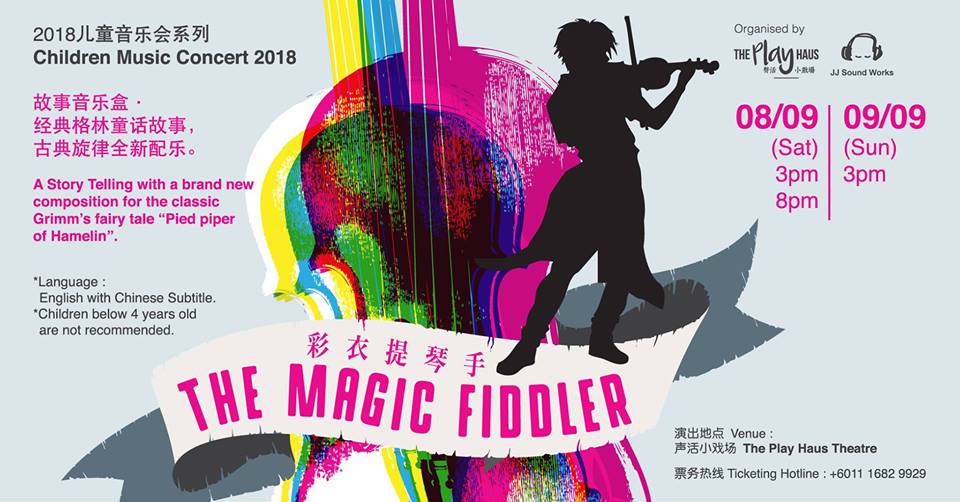 Once upon a time, a young boy learned magic tunes from a street violin performer and they play violin everyday on the street to earn a living. One day, he met a beautiful girl, so he played love tunes to serenade her. Finally they fell in love and planed to get married. However, her father, the mayor looked down on the young boy and said:" No! You have no money and no status…"
What would he do to convince the mayor?
The Play Haus brand new program series "Children Music Concert" aims to create a platform for children to discover classical music. The Play Haus presents "The Magic Fiddler" in a brand new composition from the classic Grimm's fairy tale "Pied Piper of Hamelin".
SAT 08 SEP 2018 3:00PM & 8:00PM
SUN 09 SEP 2018 3:00PM
Artist:
Lisa Chia XiaoLi
Amy Lim Pei San
Ling Li-Yen
Chong Eugene
Narrator_Samantha Law
Ticket Price:
CHILDREN (4~12 years old) RM30
ADULT RM50
**FAMILY PACKAGE : Buy 2 adult tickets with 2 children tickets get 10% discount.
Ticketing Hotline : +6011-1682 9929
Business Hour : 10am~6pm
Online Booking : https://goo.gl/forms/lO78TmMrBFaSqZkt2