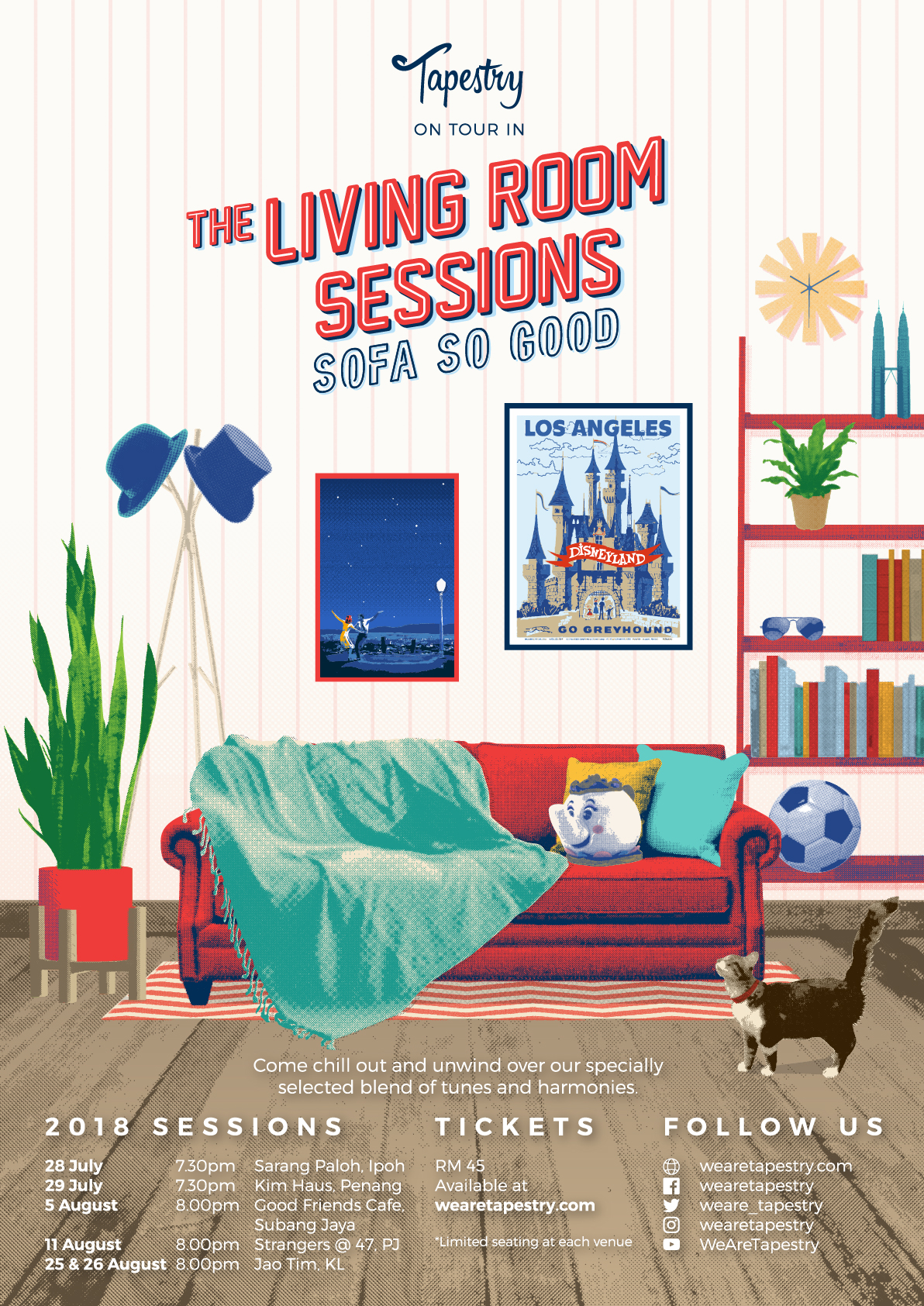 Tapestry, a home-grown vocal group, is back with its tour series this July and August! The 2018 season of The Living Room Sessions: Sofa So Good will open in Ipoh and Penang on the last weekend of July and will be making its rounds to various locations in the Klang Valley over the month of August.
The Living Room Sessions: Sofa So Good promises an evening where audiences can chill out and unwind over a specially selected blend of tunes and harmonies which have been put together by the group. The shows will feature new material which Tapestry has been working on as well as some crowd favourites from previous productions, in a mixture of a cappella style singing and singing with instrumental accompaniment.
Tapestry first introduced The Living Room Sessions in 2015 as a platform to engage with our audiences in an intimate and relaxed setting. The show concept was well received and was performed to a captive audience of over 600 over eight shows. It was also a milestone for Tapestry with the group breaking new ground and bringing its music to audiences beyond the Klang Valley, particularly those in Ipoh and Penang.
The Living Room Sessions: Sofa So Good will be performed over several weekends in July and August at the following venues:
Sarang Paloh Heritage Hotel, Ipoh | Saturday, 28 July @ 7:30 p.m.
Kim Haus, Penang | Sunday, 29 July @ 7:30 p.m.
Good Friends Café, Subang Jaya | Sunday, 5 August @ 8:00 p.m.
Strangers at 47, Petaling Jaya | Saturday, 11 August @ 8:00 p.m.
Jao Tim, Kuala Lumpur | Saturday, 25 August and Sunday, 26 August @ 8:00 p.m.
Tickets for The Living Room Sessions: Sofa So Good are priced at RM45 and can be obtained online at www.wearetapestry.com. Early bird discounts are currently available for all tickets purchased before 25 June 2018.
Since its formation in 2012, Tapestry has produced seven shows; Christmas Tapestry (2012), Stereo & Popcorn (2013), Human After All (2014), The Living Room Sessions (2015), About Aisya (2016), A Cap-pel-la la la la la la (2016) and Tape5try (2017). Tapestry's wide repertoire of songs from various musical genres has also seen the group being invited to perform at various corporate and private events including the KL International Arbitration Week Gala Dinner, World Vision's 30-Hour Famine Countdown, The Star Outstanding Business Awards, Yayasan Sime Darby Arts Festival and Malaysian Orthopaedic Association's Golden Jubilee Celebration Dinner. Tapestry most recently performed for HSBC's Corporate Banking events in September and October 2017.