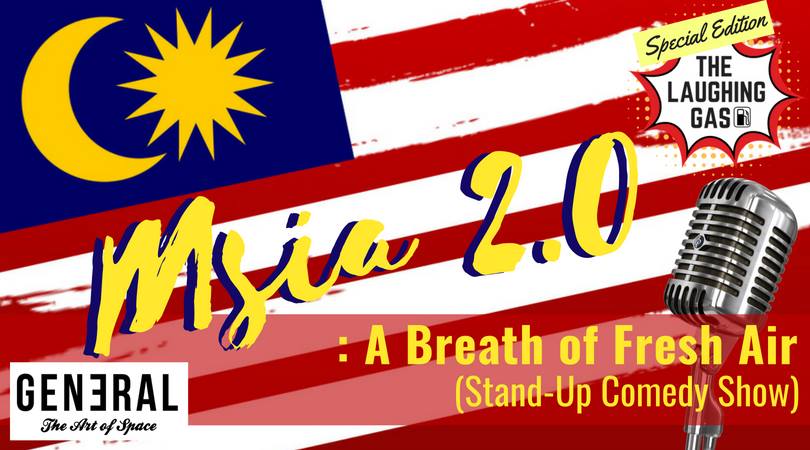 It's a new nation, people. And it's good to laugh your face off. Here at The Laughing Gas comedy show, we like to celebrate the funny fridge weirdos of our delightfully dysfunctional society. The voices of people that don't get heard because they don't really fit in any box (or are simply in my head). The hybrids, the half-breeds, the minorities within minorities, those who are basically foreigners in their own land – the LAIN LAIN (dun dun dun).
So this September, we don't just celebrate Malaysia… we celebrate Malaysians, and our marvellous capacity for ass-clownery.
Laughing Gas' Breath of Fresh Air – suck it in, laugh it out.
Date: 13 Sept 2018 (Thursday)
Time: 9PM
*Doors are opened at 8pm, show starts at 9pm
Venue: General Space
Address: 12, Lorong Universiti B, Seksyen 16 (5.41 mi)
Petaling Jaya, Malaysia 46350
Tickets are at RM25 online
https://lg-msia2.peatix.com
RM30 at the door
Stay tuned on our social media platforms for information on our future shows.
Facebook: https://www.facebook.com/DLaughingGas/
Instagram: d.laughing.gas
Email : [email protected]
Host: Sulaiman Azmil
Comics:
Filzah Azmi
Gajen Nadaesan
Jhonney Athie
Lancelot Theseira
Abdul Raqib Karim
Rizal van Geyzel
Sundeep Singh
Event Dates
Venue
Website
Tickets Link