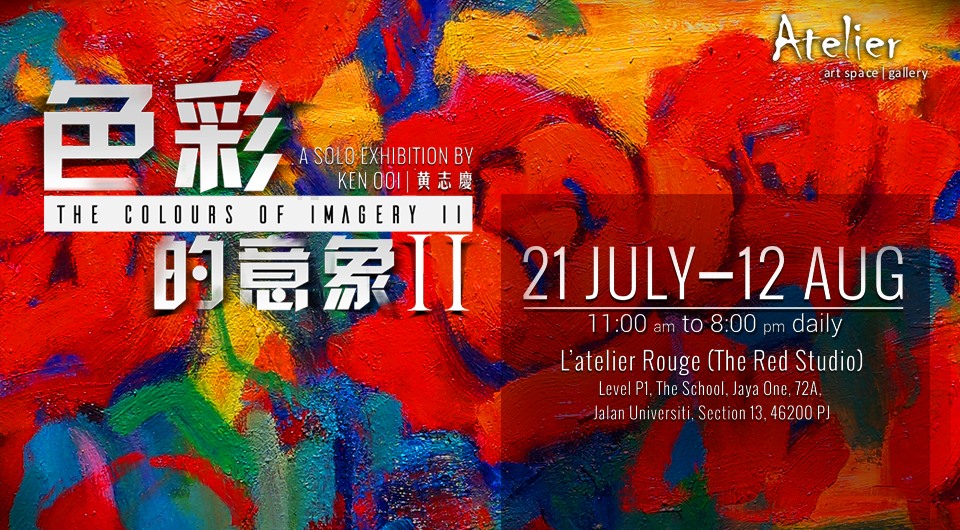 The Colours of Imagery
A Solo Exhibition by Ken Ooi
Penang-born Ken Ooi will be having his first Solo Exhibition in Kuala Lumpur at l'atelier Rouge and only his second despite having a large amount of body of works since entering the Penang art scene in the nineties.
Ken has been painting diligently from 2013 to 2016, creating a total of seven series of works which culminate in his first solo in Penang in 2016. This show will bring these important bodies of works to the KL audience to mark an important milestone in his artistic career. Atelier is proud to be able to host this exhibition for Ken Ooi.
Since graduating from the Conservatory of Fine Arts Penang as the best student in 1994, his pathway to become a fulltime painter has not been easy. I see his sheer determination and passion while reading his autobiography. Obstacles in life just made him grew better and paint more confidently as one can see the huge progress and improvements from his early years watercolour series progressing gradually to a more expressive oil series of works.
"Despite facing numerous struggles, suffering and distresses, I considered such emotions as challenges and treated them as means to build-up my will-power" says Ken on his journey in becoming an accomplished artist.
He never stopped learning. Ken enrolled himself to do a Master in Fine Art at Eurasia University in 2006 to further his pursue of knowledge and philosophy in art. Apart from that, he is also running his art studio in Butterworth to teach art to school children and adults.
The aura of his works shows great optimism in life. His skilful play of colour and composition clearly demonstrated his triumph of life in many aspects. Congratulations to Ken!
OPENING RECEPTION ON 21 JULY 12 Noon. To be officiated by YB Tony Pua