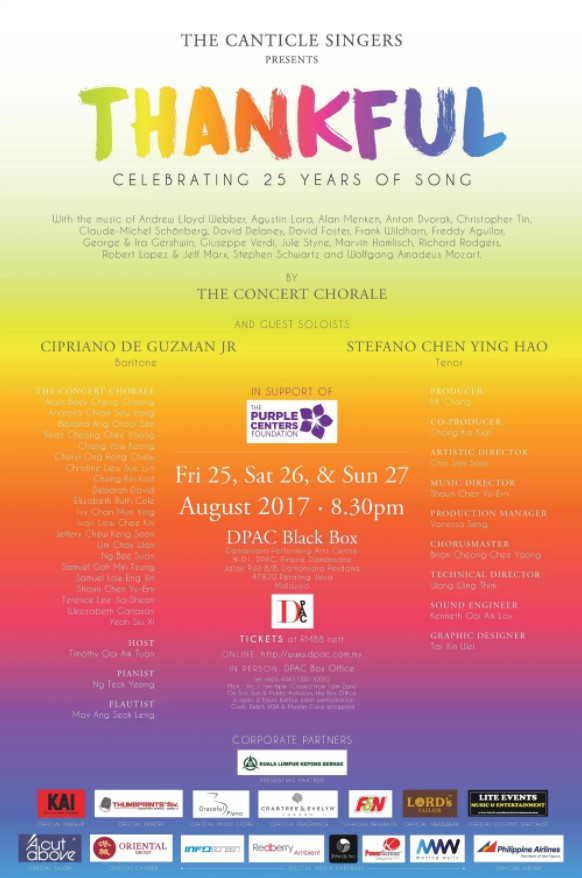 INTRODUCTION
The Canticle Singers ("TCS") commemorates its Silver Anniversary this year with a concert production of "THANKFUL" celebrating 25 years of song and as we give thanks to our Creator, our families, our friends, the communities we represent and corporate partners for supporting us and seeing us through all these years.
"THANKFUL" will take the form of 3 concerts at 8.30pm from Fri 25, Sat 26 & Sun 27 August 2017 at the DPAC Black Box, Damansara Performing Arts Centre, Petaling Jaya. The show will feature choral, group and solo numbers performed by the concert chorale of 21 singers and soloists and guest soloists Cipriano De Guzman Jr, Filipino Baritone from Japan and Stefano Chen Ying Hao, Malaysian Tenor from Kuala Lumpur
The concert will feature the music of Amadeus Wolfgang Mozart, Agustin Lara, Alan Menken, Andrew Lloyd Webber, Anton Dvorak, Claude-Michel Schönberg, David Foster, Frank Wildhorn, George & Ira Gershwin, Giuseppe Verdi, Jule Styne, Marvin Hamlisch, Richard Rodgers, Robert Lopez & Jeff Marx, Stephen Schwartz and Zina Goldrich with music from the genres of animation, classics, pop, jazz, lounge music, opera, stage and screen.
The concert will attempt to raise funds for Purple Centres Foundation, Manila
TICKETING INFORMATION
Tickets at RM88 nett available
Online at http://www.dpac.com.my Prior registration at website required
In Person
DPAC Box Office Tel +603-4065 0001/0002
Mon to Fri 11am-6pm (Closed from 1pm-2pm)
On Sat, Sun & Public Holidays the Box Office is open 2 hours before each performance
Cash, Debit, VISA & Master Card accepted
BACKGROUND OF THE CANTICLE SINGERS
TCS is an accomplished voluntary chorale established in Kuala Lumpur in 1992. We embrace a repertoire of choral of music which enjoys wide audience appeal; with entertaining elections which seek to uplift, inspire, encourage, provide hope and share our thoughts and feelings. Our music encompasses a wide genre of musicals, pop, rock, folk, jazz, lounge and semi-classical music.
TCS comprises volunteer singers from all walks of life and different occupations and backgrounds. There are teachers, bankers, accountants, students, business professionals, etc., who have varying levels of musical training and experiences. All our singers are volunteers and hence unpaid. Our members are offered opportunities to improve and advance their performing skills, as we enrich and widen the scope of our heritage and encourage a keener appreciation of music and the performing arts; contributing to the creation of a more artistically sensitive and vibrant community.
TCS has done 25 productions to date and possibly offers one of the most extensive concert repertoires in the country. Our larger productions have been done as benefit concerts for a range of charities, non-governmental organisations and other worthy causes, touching lives in Malaysia, Indonesia, Thailand, Sri Lanka, Pakistan and Philippines.
TCS was awarded The Boh Cameronian Arts Award for Best Group Vocals in 2014 and 2011 and won 6 nominations for the same award in 2014, 2012 and 2011.
Facebook
https://www.facebook.com/The-Canticle-Singers-Malaysia-10150130715465145/