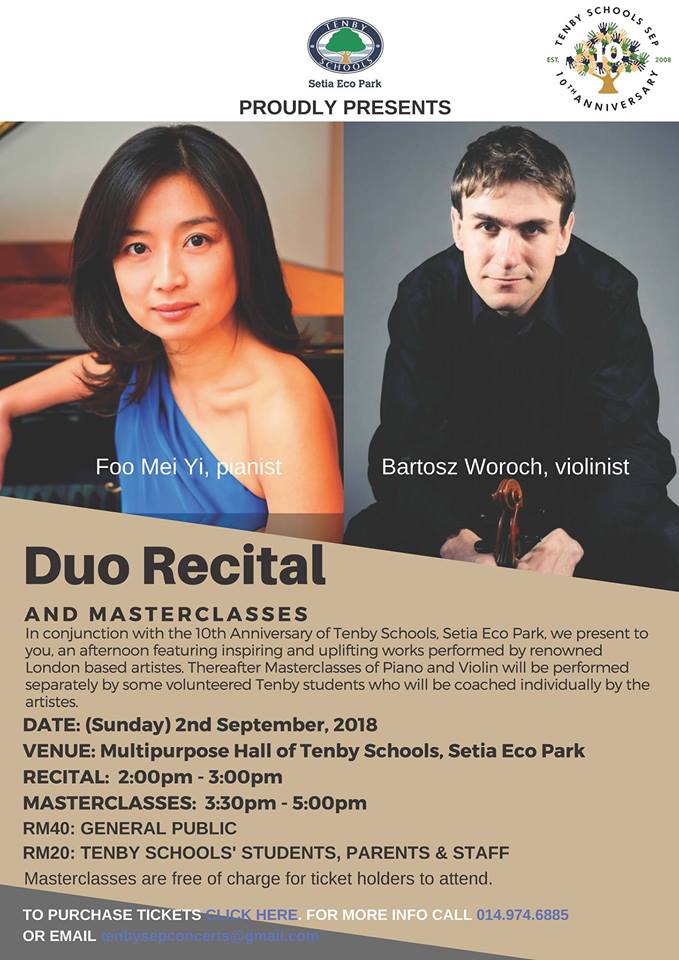 In conjunction with the 10th Anniversary of Tenby Schools, Setia Eco Park, we present to you, an afternoon featuring inspiring and uplifting works performed by renowned London based artistes.
Thereafter Masterclasses of Piano and Violin will be performed separately by some volunteered Tenby students who will be coached individually by the artistes.
EVENT: Tenby SEP 10th Anniversary Duo Recital
DATE: (Sunday) 2nd September, 2018
VENUE: Multipurpose Hall of Tenby Schools, Setia Eco Park
RECITAL: 2:00pm – 3:00pm
MASTERCLASSES: 3:30pm – 5:00pm
RM40: GENERAL PUBLIC
RM20: TENBY SCHOOLS' STUDENTS, PARENTS & STAFF
Masterclasses are free of charge for ticket holders to attend.
TO PURCHASE TICKETS PLEASE CLICK ONTO THE LINK ABOVE. FOR MORE INFO CALL 014-974 6885 OR EMAIL [email protected]
CLICK HERE TO SEE THEIR BIOGRAPHIES https://drive.google.com/open?id=1pxMmDk9PEvfyooE33DIuts103JjYpQwF
Event Dates
Venue
Website