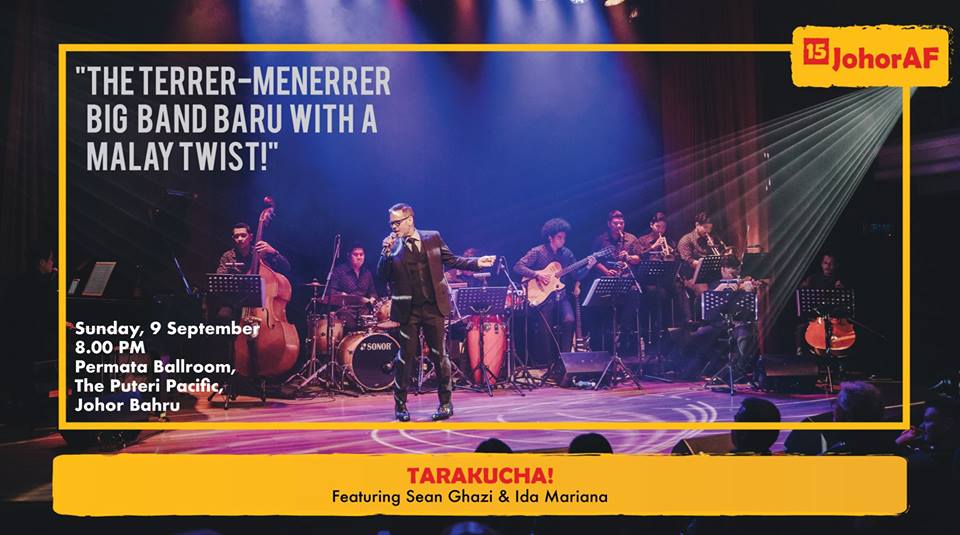 Dance the night away with TARAKUCHA! – the TERRER-MENERRER Big Band Baru with a Malay twist!
TARAKUCHA! celebrates songs by the nation's great composers, artists and songwriters and the dizzying Golden Era of P. Ramlee and Saloma with a program that also showcases original compositions, contemporary hits and all-time favourites.
Presented in English but sung in multiple languages, Sean, Ida and company will have you swooning over their velvet vocals served with charm, humour and heart guaranteed to have you dancing in the aisles before the night is over!
Janggan tunggu last minute, cepat beli your passes!
Created by and starring Malaysian singer and actor Sean Ghazi, TARAKUCHA! is led by Musical Director Nish Tham, with Ida Mariana of Kebaya Jazz fame on co-lead vocals with Sean fronting a 10-piece Big Band all celebrating Malaysia's musical heritage with style, a touch of romance and a lot of fun!
Online Purchase: RM 100 (VIP), RM 50 (Regular), RM 30 (Student)*
At Door Purchase: RM 120 (VIP), RM 60 (Regular), RM 36 (Student)*
Click this link to get your passes.
https://15johoraf-tarakucha.peatix.com
or for inquiries, call us at 6019 – 713 9900!
*Please present your Student ID at the registration counter.
Event Dates
Venue
Website
Tickets Link