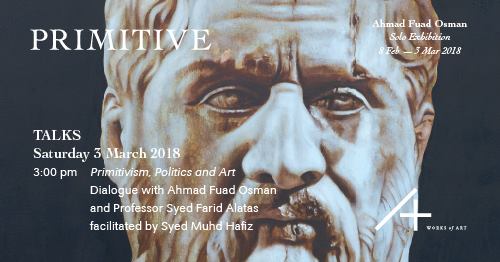 Talks in conjunction with
PRIMITIVE: A Solo Exhibition by Ahmad Fuad Osman
on Saturday 3 March 2018
"Primitivism, Politics and Art"
Dialogue with Ahmad Fuad Osman and Professor Syed Farid Alatas facilitated by Syed Muhd Hafiz
RSVP: Nikki Ong +6018 333 3399 | [email protected]
+ + + + + + + + + + + + + + + + + + + + + +
ABOUT PROFESSOR SYED FARID ALATAS
Dr Syed Farid Alatas, a Malaysian national, is Professor of Sociology at the National University of Singapore (NUS). He lectured at the University of Malaya in the Department of Southeast Asian Studies prior to joining NUS. His areas of interest are sociology of Islam, social theory, religion and reform, intra- and inter-religious dialogue.
ABOUT AHMAD FUAD OSMAN
Ahmad Fuad Osman (b. 1969, Kedah, Malaysia; lives and works in Kuala Lumpur, Malaysia) is a multi-disciplinary artist who works predominantly in installation and paintings. His works often explores the socio-political issues that affect not only the Malaysian landscape but also globally. Ultimately his works are often read as triggers rather than provocations of contestations, played out in contemporary society.
Having graduated with a BA in Fine Art from the Faculty of Art and Design, MARA Institute of Technology (UITM) in 1991, Fuad was initially known for his abstract paintings, a genre with a strong tradition in Malaysia's art history. He was also quite active in the theatre and film scenes, a prelude to his multi-disciplinary practice. His prominence in the art scene rose as a member of MATAHATI, known as one of Malaysia's most significant contemporary art collectives during their 25-year existence between 1989–2014. Throughout this period, Fuad also became known for his turn towards figurative painting with some memorable works including his award-winning Recollections of Long Lost Memories which garnered the Jurors' Choice Award at the APBF Signature Art Prize, held at the Singapore Art Museum in 2008.
Some of his recent exhibitions include the "Singapore Biennale: An Atlas of Mirrors", Singapore Art Museum, Singapore, 2016–2017; "Multiple Languages", Silverlens Gallery, Makati, Manila, Philippines, 2014; "Welcome to the Jungle: Contemporary Art in Southeast Asia From the Collection of Singapore Art Museum", Yokohama Museum of Art, Japan, 2013, amongst others.
Fuad has also completed residences at internationally-renowned venues like the Vermont Studio Centre, USA (2004), Goyang National Art Studio, South Korea (2005–2006) and Rimbun Dahan, Malaysia (2007–2008). His works have been collected by both local and international institutions which include, National Visual Art Gallery (Malaysia), Maybank (Malaysia), Singapore Art Museum, amongst others.
ABOUT SYED MUHD HAFIZ
Syed Muhammad Hafiz (b.1985) is currently pursuing his PhD at
the Malay Studies Department, National University of Singapore.
He has been curating and writing about exhibitions since 2008.
+ + + + + + + + + + + + + + + + + + + + + +
EXHIBITION DATES
8 February – 3 March 2018
OPENING HOURS
12 pm – 7 pm, Tuesday to Saturday
Closed on Sunday – Monday and public holidays
ENQUIRIES
+6 018 333 3399 | [email protected]