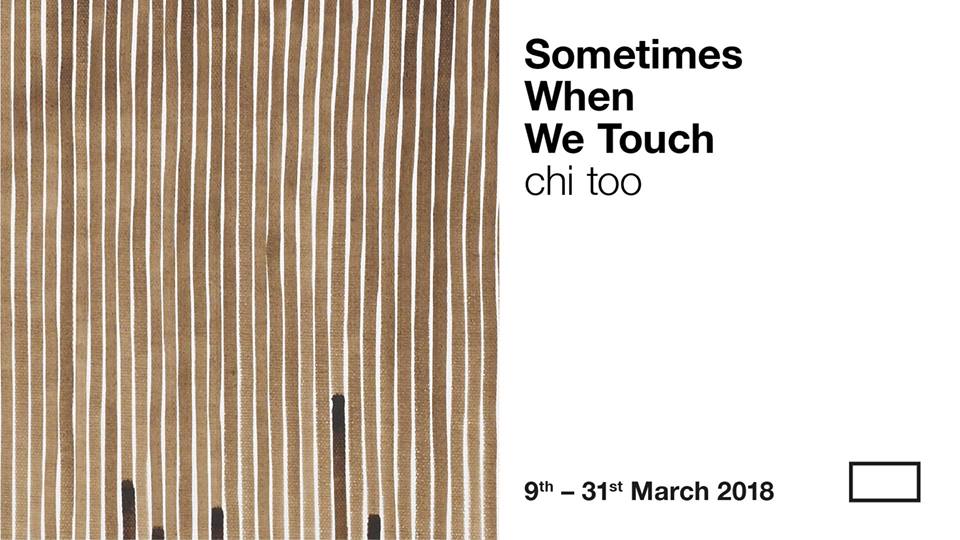 OUR ArtProjects is delighted to present SOMETIMES WHEN WE TOUCH — a solo exhibition by chi too. The exhibition highlights a series of twelve paintings on canvas, which are products of his continued foray into painting and playful interrogation of bitumen as a medium. Despite the works looking similar at first glance, these 1 x 1 metre paintings on canvas are in fact variations of what he calls his "baseline" pieces. The different intensities of bitumen employed produce a visually arresting body of work that carries the viewer through an experience that oscillates between the confrontational and the meditative.
As a result of his previous filmmaking practice, his approach to painting clearly differs from that of a trained artist. It is this lack of vantage point that allows chi too to offer a fresh and unique take on painting. In a similar vein as his bubble wrap paintings in "Like Someone in Love", chi too's painterly process in this series is highly mechanical and systematic – akin to a worker manning a toll booth or a factory labourer screwing caps onto tubes of toothpaste. Each brushstroke was painted with full attentiveness despite the endless repetition involved. Similar to Maurice Ravel's "Boléro", an orchestral piece defined by a continuous crescendo, his obsession with repetition grew louder and louder towards the completion of the series.
chi too's set of paintings in SOMETIMES WHEN WE TOUCH is part of his research for "Bukan Budaya Kita", a project that will culminate in a body of work that aims to trace historical sites of protest in Malaysia.
——
OUR ArtProjects requests the pleasure of your company at the opening of SOMETIMES WHEN WE TOUCH: A Solo Exhibition by chi too.
EXHIBITION OPENING / Thursday, 8 March 2018
TIME / 7:00 – 9:00pm
VENUE / OUR ArtProjects @ The Zhongshan Building
No.80 Jalan Rotan, Off Jalan Kampung Attap, 50460 Kuala Lumpur, Malaysia
Refreshments will be served
Kindly RSVP [email protected]
___
EXHIBITION DATES / 9 – 31 March 2018
OPENING HOURS / Tuesday – Saturday 11:00am – 7:00pm
Sunday by appointment (3 working days advance notice is required)
Closed Mondays and public holidays
ADMISSION IS FREE
For more information, please visit our website www.ourartprojects.com
or email us at [email protected]