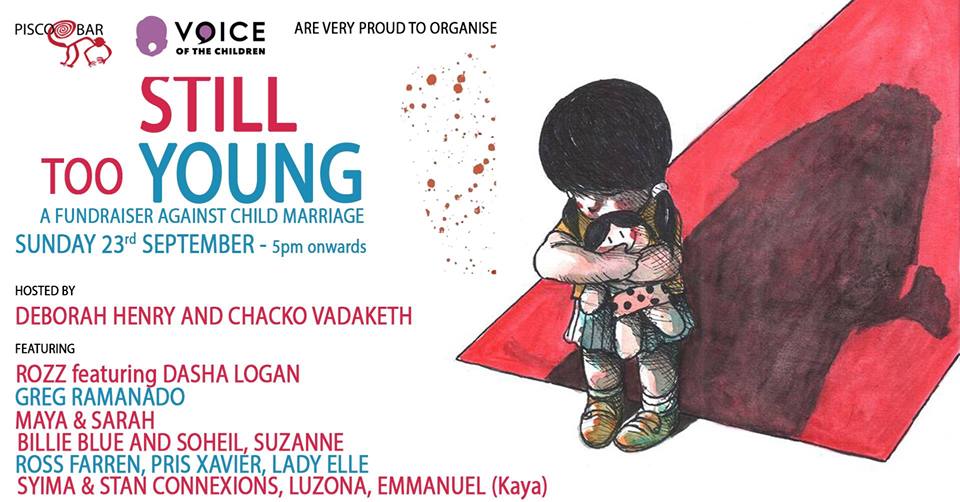 Still Too Young – A fundraiser against Child Marriage –
Voice of the Children (VoC) is a non-profit organisation founded in 2008 that advocates on issues affecting all children in Malaysia, through law and policy reform to ensure that children are protected from all forms of abuse and is no longer at risk of violation.
Their work is built on the belief that the welfare and protection of every child can be established through the promotion of children's rights and the continued implementation of the Convention of the Rights of the Child.
On September 23rd 2018, VoC and Pisco Bar will be hosting a fundraiser at Pisco, Kuala Lumpur to spark conversations, create awareness and raise funds in a fun manner for our cause against child marriage. At this stage, the event also includes performances by our very talented local musicians and raffle rounds.
The proceeds go directly to VoC. This will help fund VoC's advocacy work and initiatives to ban child marriage by increasing the minimum age of marriage to 18 without exceptions. Our goal is to reduce the amount of child marriages cases and push for positive progress in Malaysia.
—-
FREE ENTRY
Raffle tickets will be sold at venue at RM 20 per ticket.
Donations are also welcome!
Event Dates
Venue
Website