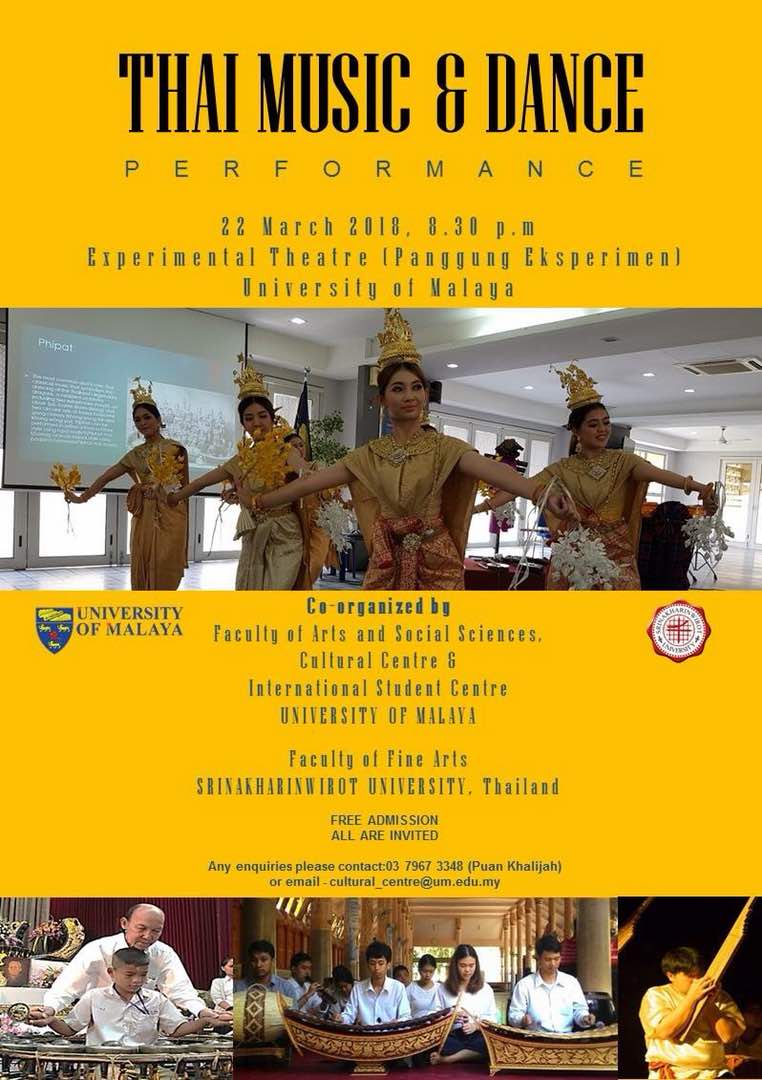 Date : 22 March 2018 (Thursday)
Time : 8.30PM
Venue : Panggung Eksperimen (Experimental Theatre), Universiti Malaya
The Faculty of Arts and Social Sciences, Cultural Centre & International Student Centre of  University of Malaya and the Faculty of Fine Arts of Srinakharinwirot University proudly presents Thai Music and Dance.
As a yearly event, Srinakharinwirot University holds Thai music and dance workshops for students outside of Thailand. Other than conducting the workshops, they also perform their music and dance as a way to promote and preserve their cultural heritage.
So, come and watch traditional Thai performing arts at Panggung Eksperimen, Universiti Malaya — for one night only!
All are invited and admission is free.
****
About Srinakharinwirot University and its Faculty of Fine Arts
This government-sponsored university was established in 1949 as the Higher Teacher Training School at Prasarnmit. It was granted its current name, address and status in 1974. The Faculty of Fine Arts was established in 1993 and offers programs in music, music education dance, design, visual arts and performing arts.
Srinakharinwirot University's Faculty of Fine Arts also organizes "The International Festival of Arts and Culture" every year. This yearly festival aims to promote national heritage to younger generation and to provide platforms of exchanging performing arts for those with interest such as students, lecturers and professions. Performers and participants are both from local and international educational institutes.