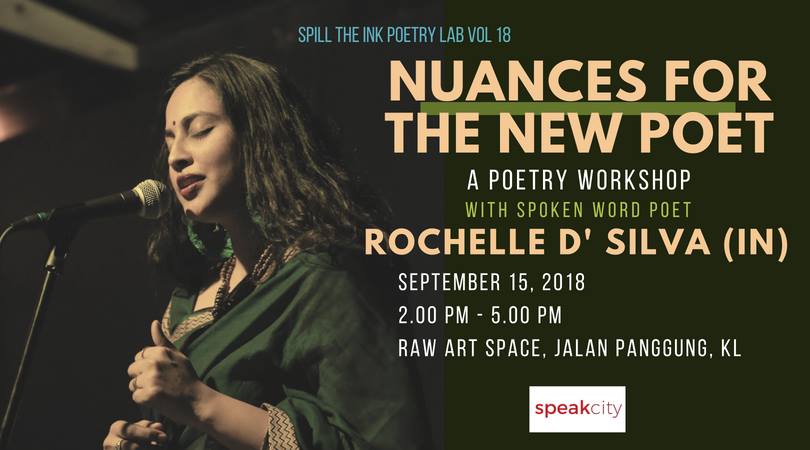 Spill the Ink is a monthly poetry lab dedicated for anyone who writes poetry or creative writing as part of SpeakCityAsia's initiatives.
[SPILL THE INK POETRY LAB VOL 18: NUANCES FOR THE NEW POET]
This workshop will help you understand the nuances of spoken word poetry and what differentiates it from page poetry.
There will be writing exercises, sharing and critiquing of poems, and tips on how to edit your own poems.
The workshop will also focus on performance aspects, to help give you the confidence to speak your poems.
Who should attend:
1) Anyone interested in poetry and storytelling
2) Poets who want to write for the stage
3) Spoken word poets who want to hone their skills
Tickets are available on Peatix: https://spill18.peatix.com/
The teaching poet for this session is:
ROCHELLE D'SILVA (IN) writes about her travels, cultural influences and personal experiences.
Her poems; furnished with deep imagery and functional metaphors provide clear pathways into her world and her ethos.
Rochelle has been a part of numerous literary fests and has performed on stages across India, Australia, Malaysia and Nepal.
She curates a monthly poetry open mic in Mumbai called 'Words Tell Stories' that features local and international artists, and runs a slam series called 'Mumbai Poetry Slam'.
She put out India's first poetry and music album titled 'Best Apology Face' with Melbourne composer Meena Shamaly in March 2017.
Her second poetry EP (A Thin Veneer of Coping) is set to release in Aug 2018. Her debut collection of poetry, 'When Home Is An Idea' was published in August 2017.
She endorses hugs and hopes to disappear into the mountains some day.
xxx
This poetry lab is opened to writers of all ages and abilities.
For materials, please bring your own pen, notebook/tablet/laptop, and an open mind.
Event Dates
Venue
Website
Tickets Link