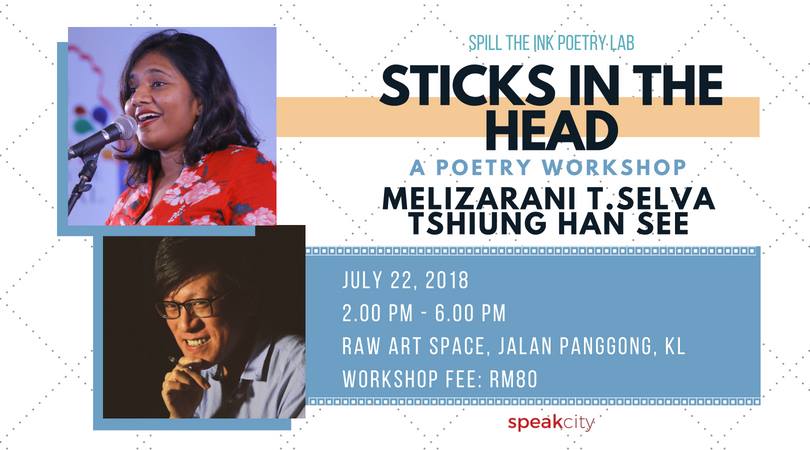 Spill the Ink is a monthly poetry lab dedicated for anyone who writes poetry or creative writing as part of SpeakCityAsia's initiatives.
xxx
Participants will learn how to flesh out their story and discover new concepts found within their own narrative. They will also explore ways to make the poem memorable using techniques and literary devices. The poem will also be given a new voice and have the chance to be read by others.
This workshop is suitable for poets who are dabbling in spoken word poetry, prose poetry and/or keen on competing in poetry slams.
Reading materials will be provided.
RM80 per person. Limited to 20 seats.
xxx
The teaching poets for this session are:
MELIZARANI T.SELVA is a spoken word poet, showrunner and educator based in Kuala Lumpur. To date, she has performed in six countries and represented Malaysia at the prestigious Commonwealth People's Forum in London and the ZEE Jaipur Literature Festival. Her notable performances include, TEDxGateway in Mumbai and Ubud Writers and Readers Festival. Her first book titled 'Taboo' made Top 10 Best-Seller List on Malaysia's No.1 Online Bookstore (MPH). To date, her poems have been translated in French by Éditions Jentayu and in Bahasa Malaysia by Malaysia's National Institute of Language and Literature. Presently, she runs Kuala Lumpur's monthly poetry open mic, 'If Walls Could Talk', a bilingual poetry slam,'Slamokrasi' and teaches performance poetry at international and national schools.
SEE Tshiung Han is a Malaysian writer and editor based in KL. He co-edited Voices of the Displaced: Poems from the Malaysian Migrant Poetry Competition 2015–2016 and Little Basket 2016 and 2017 and edited Dhabitah Zainal's chapbook Burning House, published in 2016. He was the publisher of New Village zines, now on hiatus, and the editor of the upcoming If Walls Could Talk anthology, When I Say Spoken, You Say Word.
—
To register, please fill in your details here: http://bit.ly/spilltheinkpoets
You will receive an email to proceed with your payment and confirmation.
This poetry lab is opened to writers of all ages and abilities.
For materials, please bring your own pen, notebook/tablet/laptop, and an open mind.