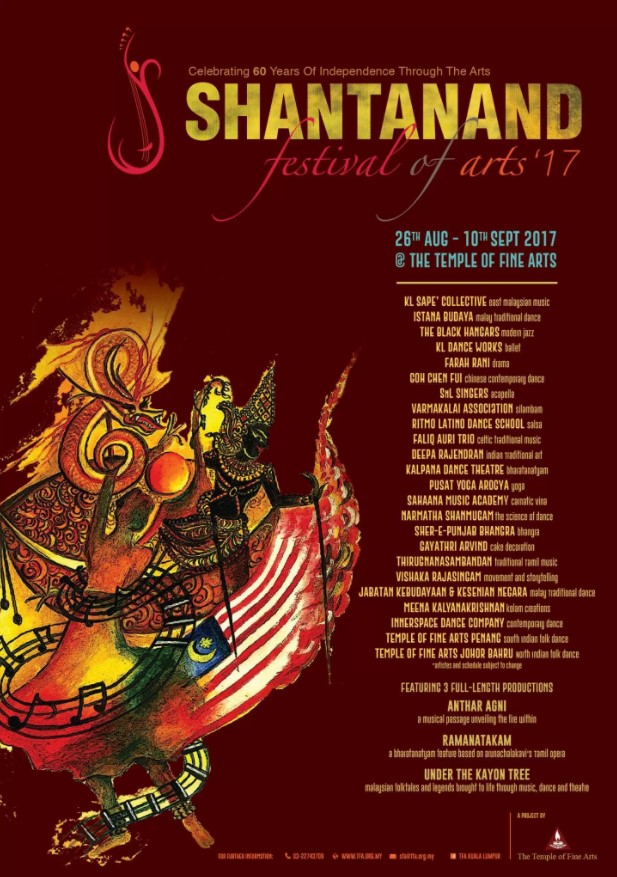 Celebrating 60 years of independence through the Arts!
The Shantanand Festival of Arts is back in its 4th year, bigger and better than ever!
Spanning over 3 weekends (26 Aug-10 Sep), this year we have a highly diverse range of performances and workshops for all. From East Malaysian music to Celtic rock, and Salsa to the science of dance, there's plenty of colour and excitement that awaits you.
In addition, SFA2017 will stage 3 major full-length productions, namely Anthar Agni, Ramanatakam and Under the Kayon Tree, by the Ankur Ensemble.
Do come and celebrate this grand festival with us and lets enjoy the spirit of Merdeka together!
See poster for the list of artists.
For ticketing and more information please contact us at 03-22743709 or [email protected]
Like us on Facebook:
https://www.facebook.com/TheTempleOfFineArtsKL
Like our Festival page:
https://www.facebook.com/ShantanandFestivalOfArts/
Follow us on Instagram:
https://www.instagram.com/tfa_kl/
Subscribe to our Youtube Channel:
https://www.youtube.com/user/TFAvideo
Check out our website:
http://www.tfa.org.my
#SFA2017 #Merdeka #TFAKL #PerformingArts #FineArts #ServeLoveGive #KualaLumpur #Dance #Music