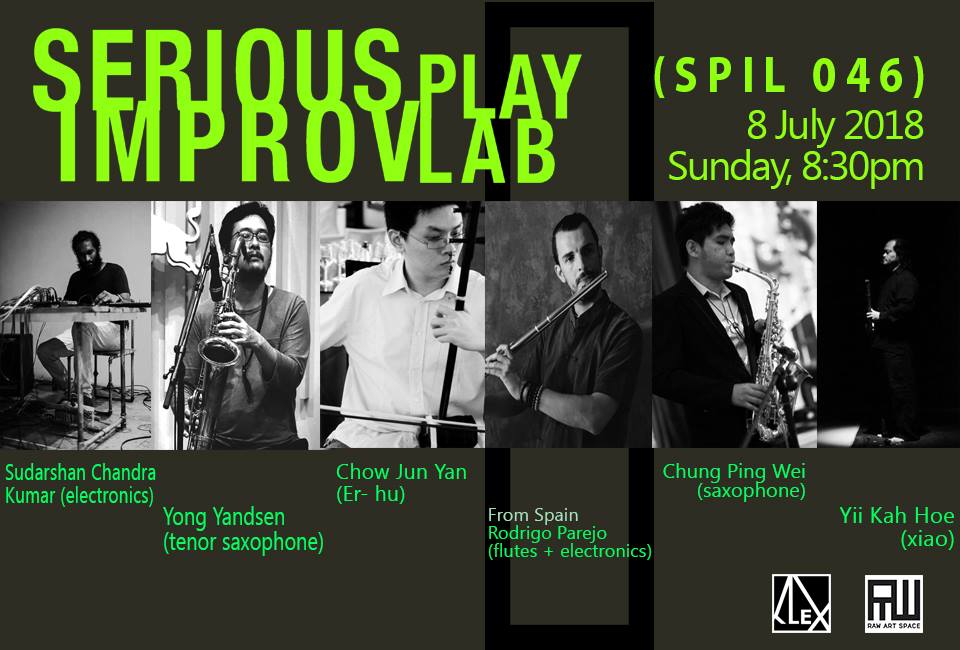 SPIL 046 would like to welcome our friend from Spain, great flutist Rodrigo Parejo, and two local musicians Ping Wei (saxophone) and Chow JunYan (er hu), who are joining SPIL series for the very first time! Also on the bill: Sudarshan Chandra Kumar (electronics), Yii Kah-Hoe (xiao) and Yong Yandsen (tenor sax). Come witness the musical conversations between eastern and western instruments in this month's lab!
Date: Sunday, 8 July 2018, 8:30pm
Venue: RAW Art Space, No. 8, 4th floor, Jalan Panggong, 50000 Kuala Lumpur.
Admission by suggested donation RM20 (general), RM15 (students)
ABOUT THE PERFORMERS:
Rodrigo Parejo (1981), spanish jazz musician, improviser, composer and educator based between The Netherlands and South East Asia, has been active in some of the different music scenes of Improvised Experimental Music, Creative Jazz, Dance and World-music in different countries in Europe and Asia during the last 15 years. He has performed a broad range of music styles, from solo performances to jazz orchestras or free jazz/contemporary ensembles including classical, jazz, rock, noise, music for dance and film music. He has played in festivals such as North Sea Jazz Festival (Netherlands), Steve Reich Festival (Ámsterdam), Bimhuis (Ámsterdam), Bratislava Jazz Days (Slovakia), Flamenco Festival Vienna (Austria), SIPA (Indonesia), KLCC (Malaysia), Esplanade Theater (Singapore), Jazzycolors Festival (Paris), Viktoria Nasjonal Scene (Norway), Margaret Graham Theater (Canada), Prambanan Jazz Heritage Festival (Prambanan Hindu Temple, Indonesia), Cafe Central (Madrid) and more.
Chow Jun Yan is a composer, erhu improviser and researcher in multidisciplinary improvisational performance. For the past few years, besides composing pieces for cross-disciplinary (Strolling – flute, percussion and Chinese calligraphy & Childhood Rhapsody – sound-visual improvisation), he also participated as an erhu improviser in various concerts, including Hearing Visual Looking Sound (Kuala Lumpur and Bangkok), UITM Spectra 2016 (Kuala Lumpur) and The 3rd RSU Electronic Music Concert: Melt (Rangsit University, Bangkok).
Ping Wei is a Malaysian saxophonist who performing classical music and pop jazz music. He started playing the saxophone at the age of fourteen, in high school Wind Orchestra and pass in distinction in Associated Board of the Royal Schools of Music (ABRSM) London Board Exam major in Saxophone. Ping Wei has widely interests in different areas of music and shows his passion by taking parts in several saxophone quartet, wind ensemble and Orchestra , including Birdian Saxophone Quartet, Klpac Symphonic Band and Klpac Orchestra. In 2007, he played as a guest player in University of Malaya Orchestra in concert of Celebrating Love and Life. This is a royal concert in honor of His Royal Highness Sultan Azlan Shah. In 2012, he and his team had been invited by the embassy of Norway to perform on the Norway International Day at the Norway embassy of Malaysia. Ping Wei is currently playing as a freelance saxophonist with local fusion and pop band and work as a piano technician in Yamaha Music Malaysia.
Sudarshan Chandra Kumar has performed for the CHOPPA Music Fest (Singapore), Playfreely (Singapore), Switch On (Malaysia) and KLEX Festival (Malaysia). He participates in Serious Play Improv Lab (SPIL) regularly, a monthly experimental music series in Kuala Lumpur. Sudarshan has contributed vocals and live electronics to the following bands: HKPT, Takdir, Sorry and Think!Tadpole!Think!. Working with music for theatre, he is the music facilitator for Main Wayang (2015-2016), a children's theatre workshop which emphasizes on the basics for orchestrating D.I.Y multimedia performances and has directed and scored music for his musical "The Propitiation of Fundamentals" (2015).
Yii Kah-Hoe is a Malaysian composer and improviser. Yii was the winner of 11th BOH Cameronian Arts Awards (Malaysia, 2014), the winner of Malaysian Philharmonic Orchestra Forum for Malaysian Composers (Malaysia, 2007). His works have been performed widely in the world. In the fall of 2015, Yii was the Scripps College Erma Taylor OíBrien Distinguished Visiting Professor at Scripps College in Claremont. He was the president of Society of Malaysian Contemporary Composers (2014 ñ 2016) and a senior lecturer at SEGi College Subang Jaya, Malaysia since 2000.
Yong Yandsen is an improvised saxophonist. He has played at the Kuala Lumpur Contemporary Music Festival, Asian Meeting Festival (Japan), Mosaic Festival Singapore, Choppa Eclectic Improvised Music Festival (Singapore), allEars Festival (Norway), Music Matters Festival (Sri Lanka) amongst others. Yandsen, together with Darren Moore and Brian O'Reily, form an improvised trio called Game of Patience. They have toured to Japan, Singapore, Sri Lanka and Thailand. He has also done a few solo tours to Japan and Taiwan. Yandsen is the the co-founder of a new Malaysian record label established in 2017, LaoBan Records, that is focusing on releasing improvised music.
——
Founded in May 2014, SERIOUS PLAY IMPROV LAB (SPIL) is a monthly music series focuses on improvisation. It's a project of KLEX – Kuala Lumpur Experimental Film, Video & Music Festival. It is a performance laboratory series focusing on music experimentation and improvisation. SPIL provides a platform for performers from various backgrounds to collaborate and present a new collective expression through improvisation.
—–