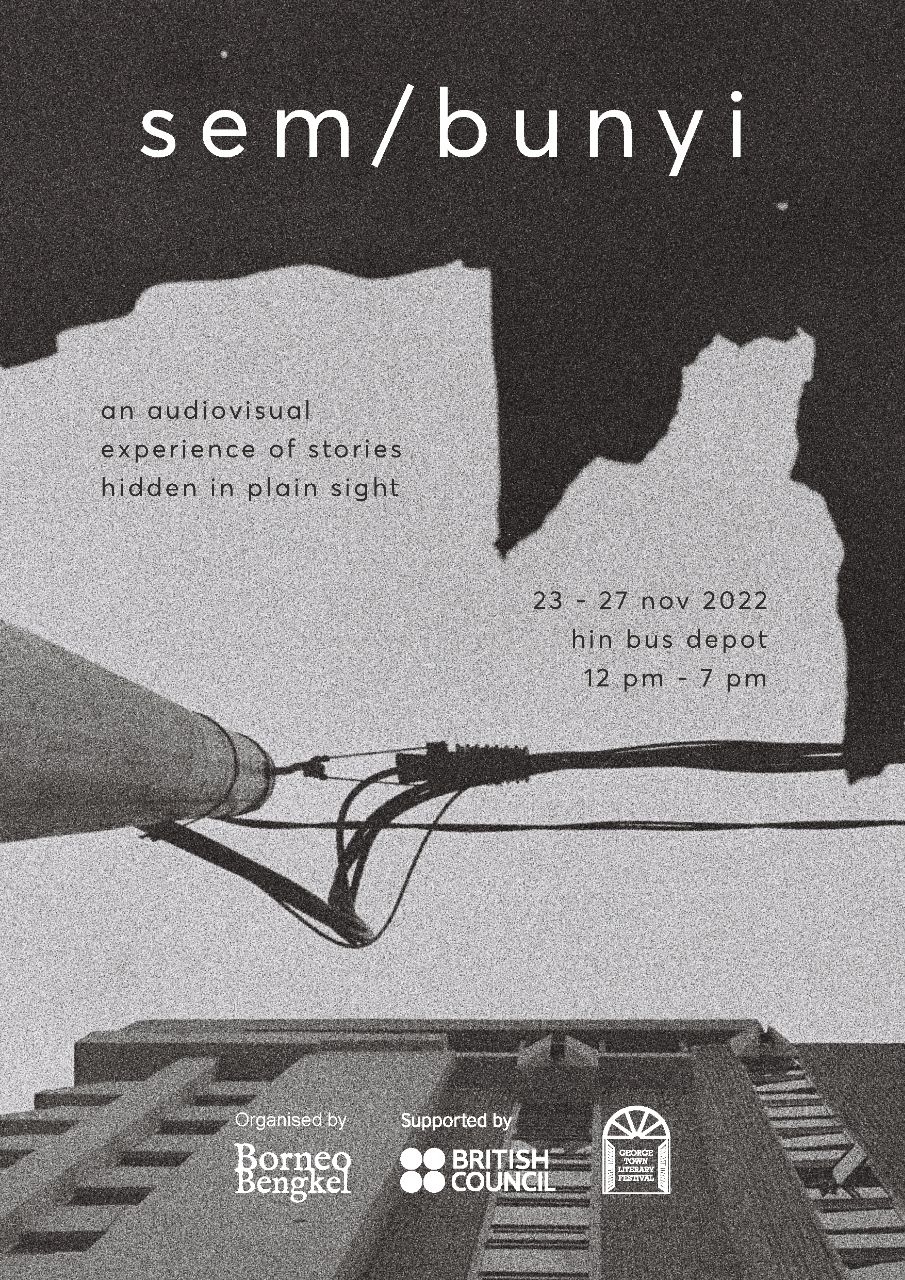 Join creative platform Borneo Bengkel as it presents sem/bunyi, an interactive exhibition from 23-27 November 2022 at Hin Bus Depot, as part of this year's George Town Literary Festival.
A play on two Malay words – sembunyi, meaning 'to hide', and bunyi, translated as 'sound' – this exhibition showcases selected works from Borneo Bengkel's 2021 projects Soundbank and Lingua Franca, presented through poetry and audiovisual installations. 
Featuring written and audiovisual works produced by collaborators from across Borneo (Sarawak, Sabah, and Kalimantan) as well as the United Kingdom, sem/bunyi tells of stories 'hidden in plain sight'; stories that are often neglected from national narratives, or only discovered by curious observers. 
Culminating in a spoken word and cultural performance on 27 November 2022, the exhibition invites visitors to explore and reflect on these audiovisual documentations of identity, indigenous languages, folk music and found sound.
Audience members are advised to bring earphones.
EVENT DETAILS
Hin Bus Depot Gallery
Exhibition dates & times: Wednesday, 23rd – Sunday, 27th November 2022; 12pm – 7pm 
Exhibition tour and sharing session: Saturday, 26th November 2022; 11am 
Spoken word and cultural performances by Adrian Jo Milang, Bethany Balan, Adi HJ, Nadira Ilana & invited guests of GTLF: Sunday 27th November 2022, 7.30pm
Free entry, donations gratefully accepted
This international collaboration is presented by Borneo Bengkel and was made possible through the support of British Council.