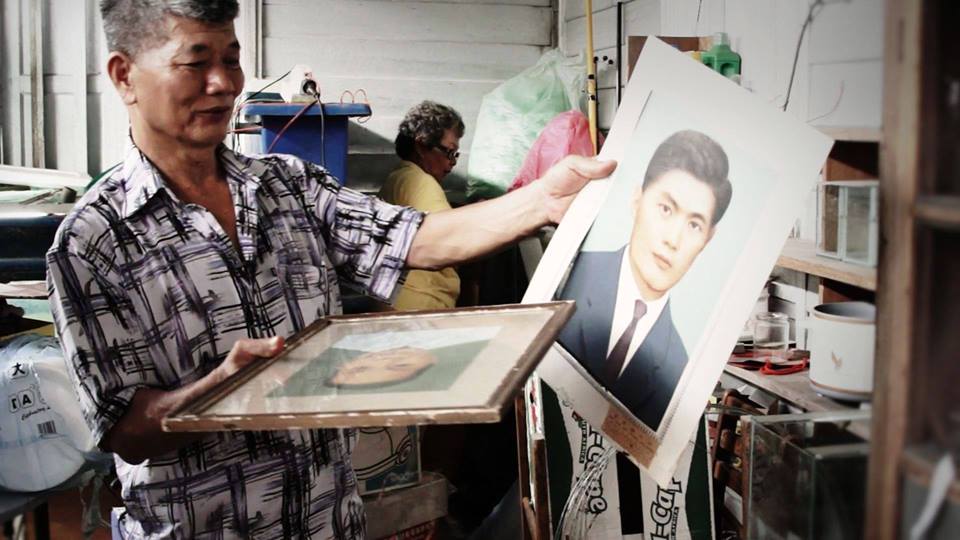 Malaysia Design Archive and Visual Art Program, Cultural Centre, University of Malaya present
a screening of
ABSENT WITHOUT LEAVE (2016)
1 hour 24 minutes
directed by Lau Kek Huat
This story begins with a man's portrait hanging in the narrator's home in Perak, Malaysia. The identity of this man has always been a taboo in the narrator's family. One day, the narrator discovered the man in the portrait was his grandfather, whose identity was hidden from him because the man was a member
of the Malayan Communist Party. This film is both a physical and a mental journey of the narrator to discover what is seldom discussed publically in his country through his family's ambivalent memories of his grandfather.
The screening will be followed by a discussion between Joe Liew, Por Heong Hong and the Director Lau Kek Huat. The discussion will touch on the contestation of memory on the Emergency in Malaysian history, as well as consider the filmic medium and its relationship to the memory.
ABOUT THE DIRECTOR
LAU Kek Huat was born and brought up in Malaysia, but then worked as primary school teacher for 4 years in Singapore. In 2006, he enrolled in film studies at the National Taiwan University. He has twice won the Best Short Film Award at the Taiwan Golden Harvest Festival, and the Best Director Award in 2009. His latest film Nia door won Best Short Film Award, Sonje Award in Busan International film festival l, selected for 38th Clermont-Ferrand International Short Film Festival.
His first feature film script A Love of Boluomi, depicting his own family story, also won him the Tokyo Talent Award 2015, Best Script Award in 2013 Taiwan. In the same year, Lau participated in the Golden Horse Academy, a workshop led by director Hou Hsiao-hsien. He is the founder of Hummingbird Production and is currently developing his first feature.
ABOUT THE DISCUSSANTS
POR Heong Hong is a Research Fellow at the University of Malaya. She is an interdisciplinary scholar who uses a wide range of conceptual and analytical tools from across various disciplines in the field of Social Sciences. Her current research interests lie at the convergence of postcolonial inquiries and cultural studies of questions pertaining to medicine, health and diseases, bodies, gender, modernity and nationalism.
LIEW Zhou Hau (Joe) received his PhD in Comparative Literature and Literary Theory from the University of Pennsylvania in 2017. His dissertation, "The Spectral Nanyang: Recollection, Nation and the Genealogy of Chineseness" explored the intersection of history, fiction and the politics of Chineseness among contemporary Malaysian Chinese writers, and argued for a denationalizing perspective on several flashpoints of Malaysian history. He is an incoming fellow for the Mahindra Humanities Center at Harvard University from 2018-2019, where he will be working on a project to rethink the resettlement archives of the Malayan Emergency (1948-1960). His writing and research have appeared in Asian American Writers' Workshop, Postcolonial Studies Journal, Full Stop Quarterly, and Naratif Kisah.