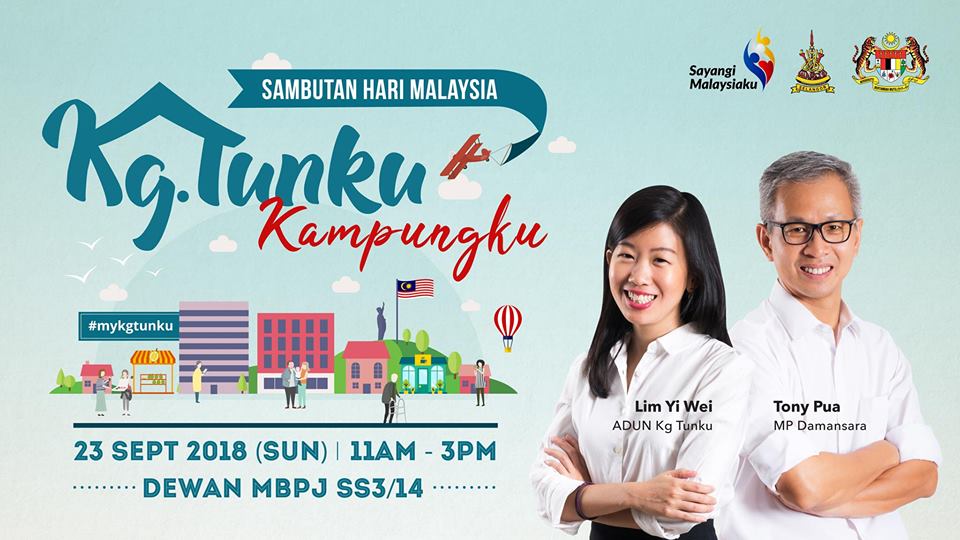 Sambutan Hari Malaysia: "Kampung Tunku Kampungku".
Celebrate Hari Malaysia with a local twist at "Kampung Tunku Kampungku"!
Post-GE14, DUN Kg Tunku now comprises the neighbourhoods of SS1, SS2, SS3, SS9A (Sungai Way New Village), Seksyen 20, Seksyen 21, and Seksyen 22.
Why we're doing this:
1) Showcase Kg Tunku's rich history and culture
Did you know that SK Kg Tunku's opening was officiated by none other than our Bapa Kemerdekaan Tunku Abdul Rahman Putra Al-Haj?
Kg Tunku was also home to the late Malay poet and National Laureate Usman Awang, and descendants of Chinese Kapitan Yap Ah Loy today.
2) Make Kg Tunku known as a vibrant and distinct community
Kg Tunku houses many food havens (hint: durians!).
Enjoy fares from local eateries and support home-grown businesses. Interested businesses can obtain application forms to participate at our office.
3) Make Hari Malaysia relevant locally
We often view Hari Merdeka and Hari Malaysia as events taking place annually in Dataran Merdeka. "Kampung Tunku Kampungku" seeks to unearth residents' own perspectives and stories through a photo, story and video exhibition.
Share YOUR stories (up to 300 words) and photos by emailing [email protected] 📩 All languages are welcome!
Through this event, we want to showcase Kg Tunku's uniqueness by bringing together the past and present, the old and the new, and make Kg Tunku a welcoming place for all. #MYKgTunku
Event Dates
Venue
Website