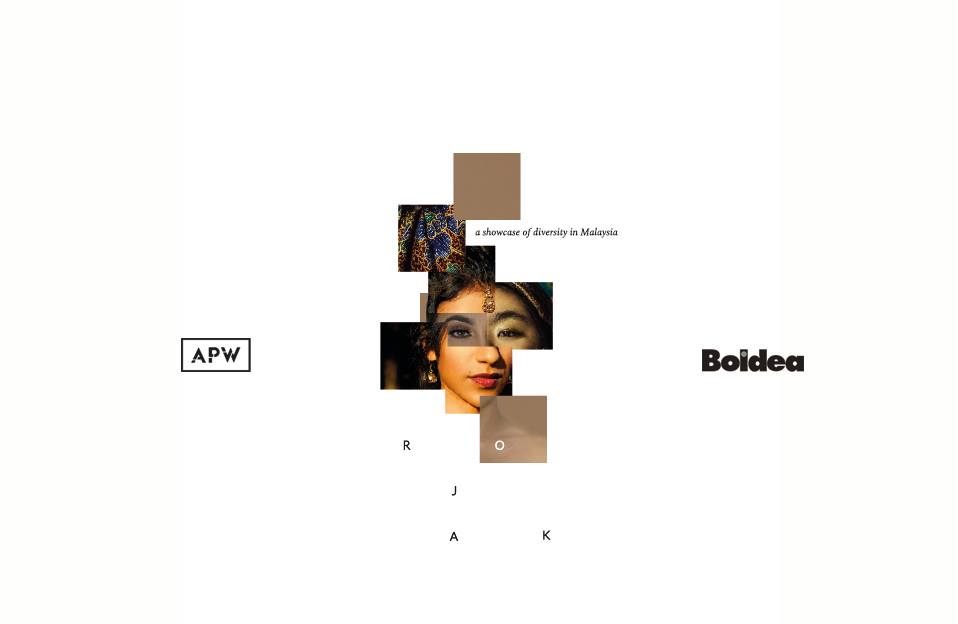 ROJAK
a malaysian exhibition for merdeka
APW BANGSAR
31st August, 9am – 2nd September, 5pm
Sponsored by: APW & Boldea
In less than 2 weeks, Malaysia will be celebrating its 61st chapter of independence. Merdeka is a day that we all come together as Malaysians, celebrating our freedom and love for our own country, no matter our race, religion, culture or background. ROJAK is an exhibition consisting of three local photographers who have created separate projects revolving around the idea of diversity and their own perspectives of being Malaysian. We want to showcase the diversity that Malaysia has and the importance that it portrays onto each individuals lives, showcasing the unity and love that we share for each other in this country.
ABOUT THE PHOTOGRAPHERS & THEIR PROJECTS
Emma Khoo
————
Emma Khoo (known as FYi Photography) is a self-taught Malaysian fashion photographer and a Nottingham China PhD candidate in copyright and architecture. Following a diagnosis of tenosynovitis in her first year at architecture school in UCL, she was unable to use her hands for drawing or piano. So she turned to photography: first as a much-needed creative outlet, and over time becoming a member of the vibrant, creative community in London and KL. Through her photography, Emma aims to share stories of strong women and models of colour in the style of fashion and beauty editorials.
Published in Scorpio Jin, Feroce, 7Hues, Volant, Pursuit of Portraits, Gazelle Magazine, iFitness Magazine, L'affaire Magazine, Alpha Fashion Magazine, Elegant Magazine, Gaya Magazine, Philocaly Magazine, We Are Resonate, Nee Hao UK, BeauNU Magazine, Conceptual Magazine, Period, Sheeba…
I AM MALAYSIAN by Emma Khoo
———————————
What does being a "Malaysian" mean to you? This is the question at the heart of this ongoing, fashion series. It openly embraces the modern Malaysia's cultural diversity. "I AM MALAYSIAN" aims to project strong fashion narratives against everyday Malaysian backdrops. Inspired by Kuala Lumpur's history, architecture and urban infrastructure, the series also celebrates the combination of the old and new. These "rojak" elements come together in the spontaneous styling and set-up of this shoot.
Each photo has a different story. Every shoot in this series aims to make a statement about what being a Malaysian means, and how we should love and respect all cultures here despite our differences. Because that is the true Malaysian spirit. Betul kan?
John Kam
———-
John Kam (AKA Cvpturesjohn) is a self-taught conceptual photographer and visual storyteller based in Malaysia. He delves into subjects focusing on the inner-workings of the human psyche — usually juxtaposing mythological and fantasy elements to express the emotions of his subjects. He comes from a family background of advertising and has been freelancing as since seventeen-years old, servicing notable clients such as The Tokyo Restaurant, Sushi Azabu, TORAJI, Acme and Delirium amongst many others. Has co-founded a startup called Gentlerice that specialises in collaborating and promoting local Malaysian artists, businesses and content creators. Currently in his final year at Sunway University in Bachelor of Communication — Advertising Design; he's expected to graduate next year July.
SKINTIGHT by John Kam
————————-
A campaign celebrating diversity in Malaysia. SKINTIGHT by Gentle Rice is a project showcasing the complex and multiple colors of Malaysians through a series of 100 portraits. From light to dark and everything in-between. Every ethnicity is made up with a vast array of different shades and undertones combinations, making each individual one of a kind color. Photoshoots are currently ongoing till the end of August; the full series will be fully released on 16th of September.
Helmed by John Kam, one of the co-founders of Gentle Rice. They're a collective of
individuals passionate for collaborating and promoting local artists, businesses and
content creators based in Malaysia. Gentle Rice believes audiences are inspired by
visuals and stories that have personal meaning to them, therefore focusing on creating
online dialogue between people through sharing relatable experiences.
Daniel Adams
————–
Daniel Adams is a Malaysian conceptual, portrait photographer who explores and blurs the lines between gender, identity and cultural norms. He also delves into the usage of social and political ideologies throughout his concepts, wanting his work to start discussions amongst its viewers. Along with the exploration of these subjects, Daniel also looks for the unusual and the not-your-everyday aspects to implement into his photography, aiming to recreate the surreal images in his head. Daniel has recently moved back to Malaysia after studying BA (Hons) Photography at Falmouth University for three years in England.
Featured in The Guardian, The British Journal of Photography, World Of Buzz, Buzzfeed, HOKK Frabica, Free Malaysia Times, The Star Online, JUICE Malaysia, SAYS.com, Women's Health Malaysia, Daily Mail UK, Musee Magazine, Gruff Magazine, F Stop Magazine, Photographica, Harpers Bazaar Malaysia, Beau Nu Magazine, Agave Magazine, Rustic Wild Magazine, Korembi Magazine, Wandering Minds Magazine and more.
THE BATIK SERIES by Daniel Adams
————————————
The Batik Series is a project started by Daniel Adams, to show the diversity that Malaysia has to offer through its melting pot of cultures. This project aims to blur the barriers between differences and allows for everyone to be seen as apart of this community that is present in Malaysia. Batik is a traditional art form that strongly represents Malaysian culture, historically. By using Batik, he aims to bring things back to basics, having the focus be on the community that we have.
Each individual photographed in this project creates their own story and connection with the Batik, whether it played an important role in their upbringing, is a nostalgic remembrance of their past or the creation of new memories with this art form at this festival. These images showcase the integration of the old and the new, bringing forth a traditional art form into a modern day situation.
Event Dates
Venue
Website