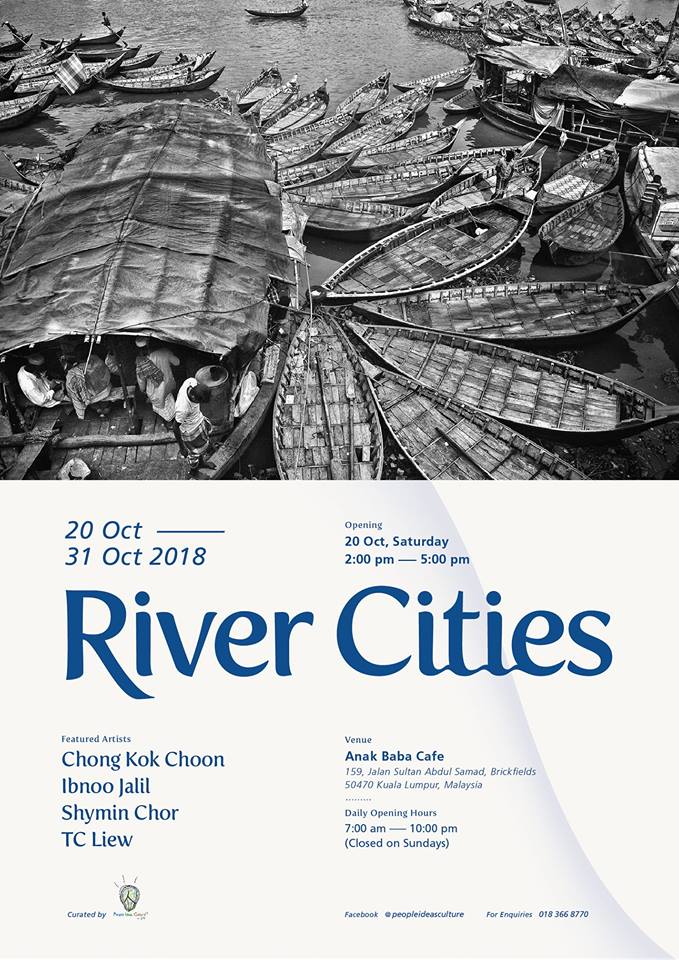 RIVER CITIES art exhibition
Curator's words
Rivers, as a means of communication, always played an important role in the dissemination
of culture. Peoples, individuals and ideas transited rivers' course back and forth, exchanging goods, merchandise, religions, scientific knowledge and customs. This project is a continuity of a panelist talk that I presented in Macau Literary Festival on "Just Around the Riverbanks: Ipoh, Kuala Lumpur, Melaka" in March this year. This set a good foundation in further exchanging the perspective and ideology with fellow local artists. My intention is to prompt the discussion on the challenges and opportunities unveiled by history, with a view to understand as well what the future may bring. It is a good chance to see how varied the local artists react on the same river cities issue/ context/ framework, in order to understand the aspiration differences, geographically and economically, for example in comparing Kolkata, Dhaka, Melaka and Kota Bahru.
We seem to forget the bygone ancient asset: most of the human civilization started from the river. The foundation work so far is to draw the possible picture of promoting ideology of reviving the township development based on riverbank and riverfront, rather than the transit oriented development (base on the provision of public transportation which may give way to highway eventually). I would expect there are differences of findings in between the less developed cities, and the well developed ones in the context of river cities. For example, Cheonggyecheon in Seoul (Korea) is a 11 km-long modern public recreation canal. This downtown green space was once a looming, congested elevated freeway. It was a major undertaking since the highway had to be removed and years of neglect and development had left the stream nearly dry. It took lots of courage for the local government to revive the canal for the public enjoyment. Of course, the tourism influx solely on this project is the spillover effect, yet it showcase to us that the city council was bold enough to put the citizen welfare at first place. I believed this needs certain level of civic awareness and the maturity of the local governance.
On the other hand, slum dwellers in Indonesia have launched a landmark legal case to challenge a decades-old law which has been used to forcibly remove thousands of families,
amid a wave of evictions in the country's capital. The case comes as authorities ramp up efforts to clear housing along a main river bank in Jakarta, to pave the way for an ambitious flood mitigation project. With these projects and investment, the future of the kampung residents is being gambled on the global trade market. This construction boom and infrastructure building has been accompanied by a rise in legally dubious and traumatic evictions of thousands of families from their homes and communities. They are betting their livelihoods, social and family networks and economic prospects, not only to save their homes and communities but also to envision a more sustainable Jakarta.
Created as a tourism product, our home groomed River of Life's aim is to clean and beautify eight rivers in Greater Klang Valley. Its overall progress stands more than 80%. The mega project comprised three major components – river cleaning, river beautification as well as commercialisation and tourism, to be completed by 2020 . Personally, I welcome the realization of River of Life project till now but we must be ready to get engaged more as it will determine how we actively create the riverbank usage which is considered conducive, pleasant and safe to us as general public. To me, this clean-up was not only about cleaning the litter that was already there. It's about creating consciousness concerning the problem of pollution and getting access back to the soul of river. Contributing to a cleaner and friendly
river city is rewarding and really makes a difference to the environment – and on a bigger scale than you might imagine.
– Kenneth Wong, Founder of People Ideas Culture 人思文
Opening:
2-5pm on 20 Oct 2017 (Sat)
Special guests appearance:
YDH Dato' Dzulkarnain Taib, President/CEO Yayasan Media Hebat
Dato Seri James Wong T W, WTW Group
Datin Ho Choy Meng, President of Malaysian Investors' Association
Featured artists:-
Chong Kok Choon
Ibnoo Jalil
Shymin Chor
TC Liew
Exhibition period: 20-31 Oct 2018
Venue sponsor: Anak Baba Cafe
* operation hour of cafe is Mon-Sat 7am-10pm (closed on Sun). Kindly noted.
Event Dates
Venue
Website