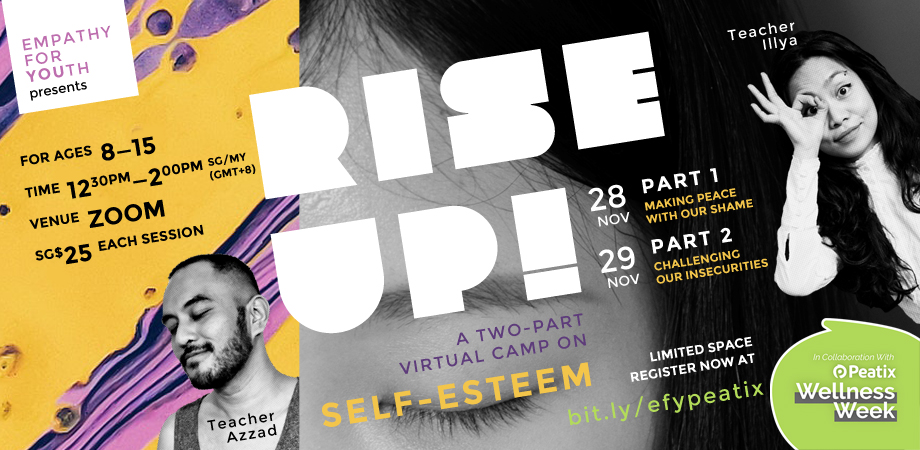 RISE UP!
PART 1 : MAKING PEACE WITH OUR SHAME
"You could have done better!"
"You are so messy."
"Why is your face like that?"
It is common in our Asian culture to 'educate' children by shaming, which often comes in a form of criticism and punishment. Adults tend to subconsiously shame young people by belittling their feelings and actions , or by making them feel that they are not good enough.
Although most of the time we adults intend to send these messages out of love for our young, shaming interactions as such will further cultivate fear, insecurity, emotional suppression, and lack self-esteem in them. The toxicity of social media consumption does not make it any easier.
So what is the first step to help our children and teens make peace with shame? RISE UP! will guide them to
Recognise that shame mostly come from external sources and therefore, must not be internalised
Remove their mask of shame that blocks self-expression
Enhance and protect a healthy self-esteem
Practice self-care
Activities in the self-esteem camp include
• Therapeutic art
• Mask-play
• Creative writing
• Breathing techniques for confidence
PART 2 : CHALLENGING OUR INSECURITIES
Once it is understood that negative thoughts and irrational beliefs can be rooted from external sources, insecurities can be challenged by cultivating self-love. In Part 2, our children and teens will learn how to
Discover their positive qualities
Practice self-care
Confidently present themselves
Compassionately present others
Activities in the self-esteem camp include
Group theraphy
Therapeutic art
Affirmative writing
Breathing techniques for confidence
Script to network/ make new friends
Get a combo ticket for Part 1 & 2 (Challenging Our Insecurities) on the check out, and welcome your child for more exposure to self-therapeutic techniques by Empathy For Youth Academy.
Part 2 class info: https://riseup-part2.peatix.com/view
Date: Sunday (28th Nov 2020)
Time: 12. 30 pm to 2.30 pm
Enrol now!
Instructors
Illya Sumanto (Primary-level)
Teacher Illya is an internationally recognized educator who specializes in emotional literacy, critical pedagogy and therapeutic art. She has facilitated and produced shows with children in Asia, Europe, and Africa. In 2018, she received an award from University Malaya's Education Faculty upon graduating her Master's degree for her role in championing Spoken Word in education. Currently based in China, Illya is working on publishing her book, How to Teach Taboo Topics to Children through Spoken Word Poetry.
Azzad Mahdzir (Secondary-level)
Teacher Azzad is a multi-disciplinary artist, educator and meditation advocate. He is also a theatre all-rounder, director, copywriter, performer and a self-taught graphic and visual designer. He taught in a high school in India and West Malaysia and became a lecturer in colleges in East Malaysia between 2005 and 2010. Based in Kuala Lumpur, Azzad is currently exploring healing work for marginalised bodies and art therapy, while building a practical toolbox to live in times of crises through his project, Sakti Bakti.