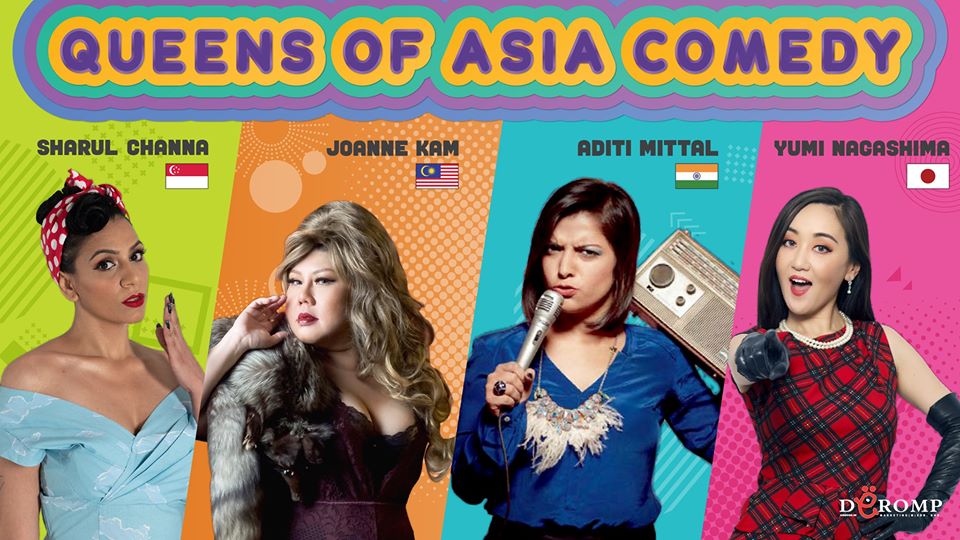 In conjunction with International Women's Day 2020, we bring together four of Asia's biggest female comedians in a stand-up comedy showcase like never before! Putting the POWER in empowerment, Queens of Asia Comedy Special will see each of these ladies bringing their unique comedy stylings to Kuala Lumpur for a one-night only extravaganza of hilarity and debauchery!
On the 13th of March 2020, join this powerful lineup of female comedians as they grace the stage together for the first time at HGH Convention Centre, Sentul from 8.30pm onwards.
Hosted by Malaysia's Queen of Comedy Joanne Kam Poh Poh, the Queens of Asia Comedy Special features Japanese sweetheart and YouTube sensation, Yumi Nagashima, Singapore's finest Sharul Channa, and one of India's top female comics, Aditi Mittal
JOANNE KAM POH POH (MAS)
"Vibrant, loud, fearless!"
– New Straits Times, Malaysia
Armed with a distinct style of acid tongue humour, Joanne's risque material covers everything from sexual misadventure to awkward encounters with rock climbing walls. With close to 30 years of experience in the business, Joanne commands the stage with "the moxie of someone who's eternally skulling Red Bulls".
"Joanne hits the sweet spot"
– The Straits Times, Singapore
YUMI NAGASHIMA (JAP)
"A layer of intelligent humour"
– She Does The City
"Her wide-eyed, gleeful expression … defies whatever stereotypes her audience might project onto her."
– Vice
From Japan by way of Vancouver, Yumi Nagashima's sassy stage presence and unique world-view has taken the North American comedy scene by storm! A mainstay in the Vancouver comedy circuit, Yumi was featured in Just for Laughs North West and was a
finalist in the 2016 & 2017 Yuk Off Comedy Competition. Besides her work in comedy, Yumi also has numerous acting credits to her name, most notably HBO's The Man in the High Castle.
SHARUL CHANNA (SIN)
"One of the funniest comedians to come out of Singapore"
– The Citylist
"Razor sharp, self-deprecating!"
– Buro 247
Singapore's only full-time female comedian joins the show with her uproarious brand of acid tongued humour, bound to leave audiences in stitches and begging for more. Born in India, Sharul's family moved to Singapore when she was a baby. Armed with a diploma in acting and a Bachelor's degree in communications, the tides turned for Sharul in 2016 when she was the first Singaporean woman to be chosen for the prestigious Melbourne International Comedy Festival, which led to a sold-out tour across Australia and Asia.
ADITI MITTAL (IND)
"Exuding an easy charm"
– Oddnaari.in
"She has a template of devil-may-care femininity"
– The Guardian
A comedian, writer, and actor, Aditi Mittal claims to barely manage these roles with competence, but that hasn't stopped her from taking the global comedy circuit by storm, from appearances at comedy festival's across the world to most notably, two Netflix specials. Rated by The Times of India as one of India's top 10 stand-up comedians, Aditi is a comedic force to be reckoned with, having been featured on CNN-IBN, the BBC, and Bollywood OMG.
Platinum – RM300
Gold – RM180
Silver – RM130
Bronze – RM80
Tickets available at : QOA.qtic.my
For details, WhatsApp +60102700172