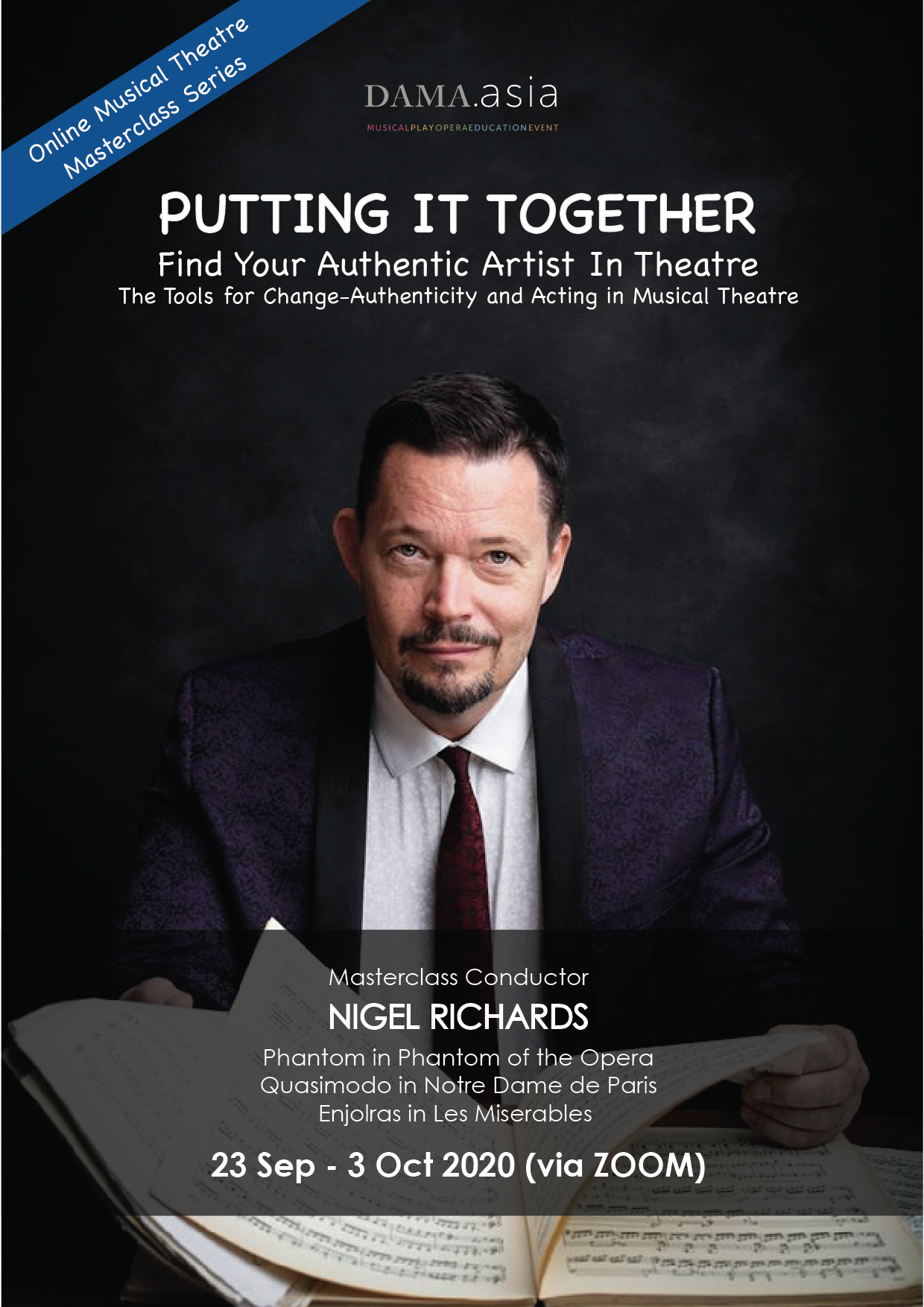 Dama Asia Musical Theatre Education & Training
Online Masterclass Series
Putting It Together: Find Your Authentic Artist In Theatre
The Tools for Change-Authenticity and Acting in Musical Theatre
'We go to the theatre expecting a lie, and it's our job to tell the truth' David Mamet
A chance to transform into a true artist with Nigel's 30 years' experience of teaching and performing in Theatre. These sessions can be used for both plays and musicals, even though Nigel will be working with six singing students to explore truth-making in the unreal environment of song. All lessons are enlightening whether singing or speaking text.
Module 1 The Tools for Change-Authenticity and Acting in Musical Theatre
Session 1: The Art of Seeing
How do we become Elphaba or Jean Val Jean? How do we take the first steps to seeing the world as they do?
In this first class we explore how we see the world and how we can make changes to truly inhabit another life. You will realise that there is no such thing as 'thinking'!
Using gentle exercises we will truly change the way you perceive your world, how the brain works, and how to breath life to your text.
Session 2: The Fundamental Questions
What are the first three questions to ask when starting on a new song or role? Questions you can ask every time that will lead you on a path to creativity?
What are the 9 fundamental statements that you can apply to every character you play?
In the second session we lay the foundations of how to be authentic, giving you the right questions to ask and providing a map to guide you to characterisation.
Session 3: The Failure of Language
Why is language/text both our greatest friend and our greatest enemy? Why do words always fail us? How can the same letters we use for DOG also be the same letters we use for GOD??? Why there is no such thing as 'the word' in theatre?
Here we explore our relationship to language and how it is simply a construct and, frankly, pretty useless on its own to express a character's intention- yet it is the only thing we have to work on.
Session 4: The Lure of Generalisation
Why is there no such thing as a 'Love' song?
Why you can't 'play' emotions because they 'play' you!
Why you can't play a 'saint' or a 'devil', a 'saint or a tyrant!
In this fourth session we show how making assumptions can be a deadly path to generalisation and overacting, and everything on stage is an action, even thought.
Masterclass Conductor
Nigel Richards. West End Actor, Singer, Lecturer On Musical Theatre
Date & Time
Session 1 – 23rd Sept 2020 (Wed), 8:00 – 10:00pm
Session 2 – 26th Sept 2020 (Sat), 4:00 – 6:00pm
Session 3 – 30th Sept 2020 (Wed), 8:00 – 10:00pm
Session 4 – 03rd Oct 2020 (Sat), 4:00 – 6:00pm
Class Size
Masterclass Participants: 6
Masterclass Observers: Not More Than 50
Age
15 years old and above
Course Fee
Participants
1 Class RM160
2 Classes @ 10% Discount – RM144 x 2 = RM288
3 Classes @ 15% Discount – RM136 x 3 = RM408
4 Classes @ 20% Discount – RM128 x 4 = RM512
Observers
1 Class RM100
2 Classes @ 10% Discount – RM90 x 2 = RM180
3 Classes @ 15% Discount – RM85 x 3 = RM255
4 Classes @ 20% Discount – RM80 x 4 = RM320
Course Info
• Session 1 sets the foundation for the subsequent three sessions. Participants are strongly encouraged to attend the First Session – The Art Of Seeing should they be interested to attend any of the remaining individual sessions.
• Requires 6 masterclass participants per session to commence.
• Each session will commence with a 20-minute lecture/presentation by Nigel Richards and is followed by the coaching of 6 participants for 90 minutes (15 minutes per participant). There will be a Q&A section at the end of each session.
• Participant acceptance is based on audition. For those interested, kindly submit a video recording of 2 musical theatre-related songs for consideration.
Register now: (to provide registration form google link)
Nigel Richards Bio