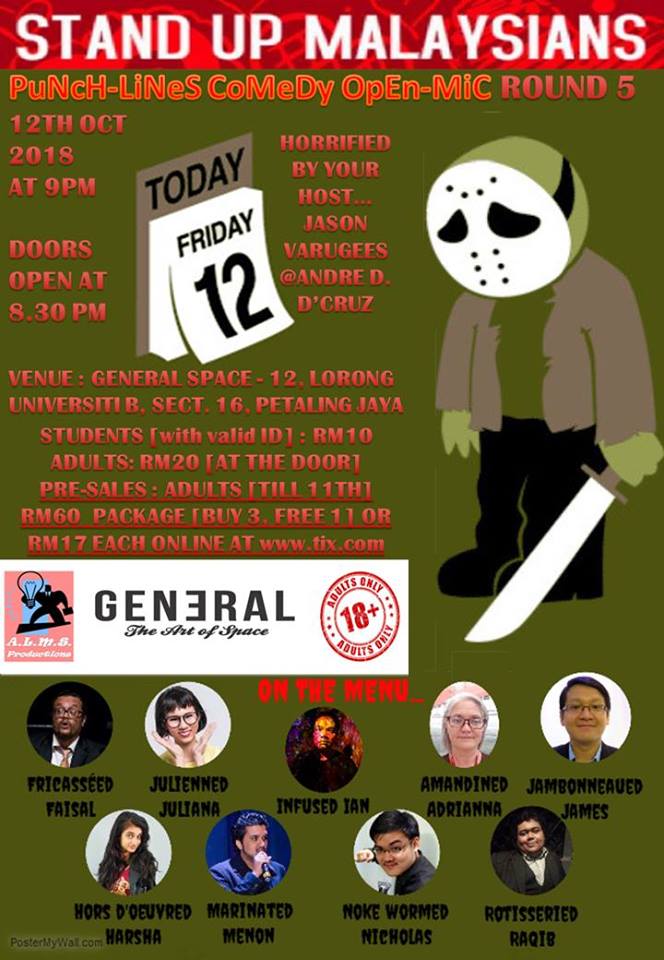 PuNcH-LiNeS Round 5 : Friday NOT the 13th –
A.L.M.S. Productions' monthly comedy open mic PuNcH-LiNeS is back with a vengeance in true Jason Voorhees fashion with an "almost" Friday the 13th performance. Prepared to be SCARED SILLY… emphasis on SILLY.
HORRIFIED by HOST Jason Varughese @ Andre D. D'Cruz.
Suitable for those aged 18 YEARS AND ABOVE ONLY.
With Performances By: Faisal Merican, Adrianna, Menon Preshant, Harsha, James Soo, Ian Tai, Abdul Raqib Karim, Juliana Heng and Nicholas Lim.
AT THE DOOR: STUDENTS [with VALID ID] – RM10. ADULTS – RM20.
ADVANCE Promo : ENDS on THURSDAY, 11th October 2018.
ADULTS : 4 PAX for RM 60 [ BUY 3, FREE 1 ] OR RM 17 EACH
ONLINE ONLY : www.tix.my/Tix18/?u=TASKL18&eventID=PL
Event Dates
Venue
Website