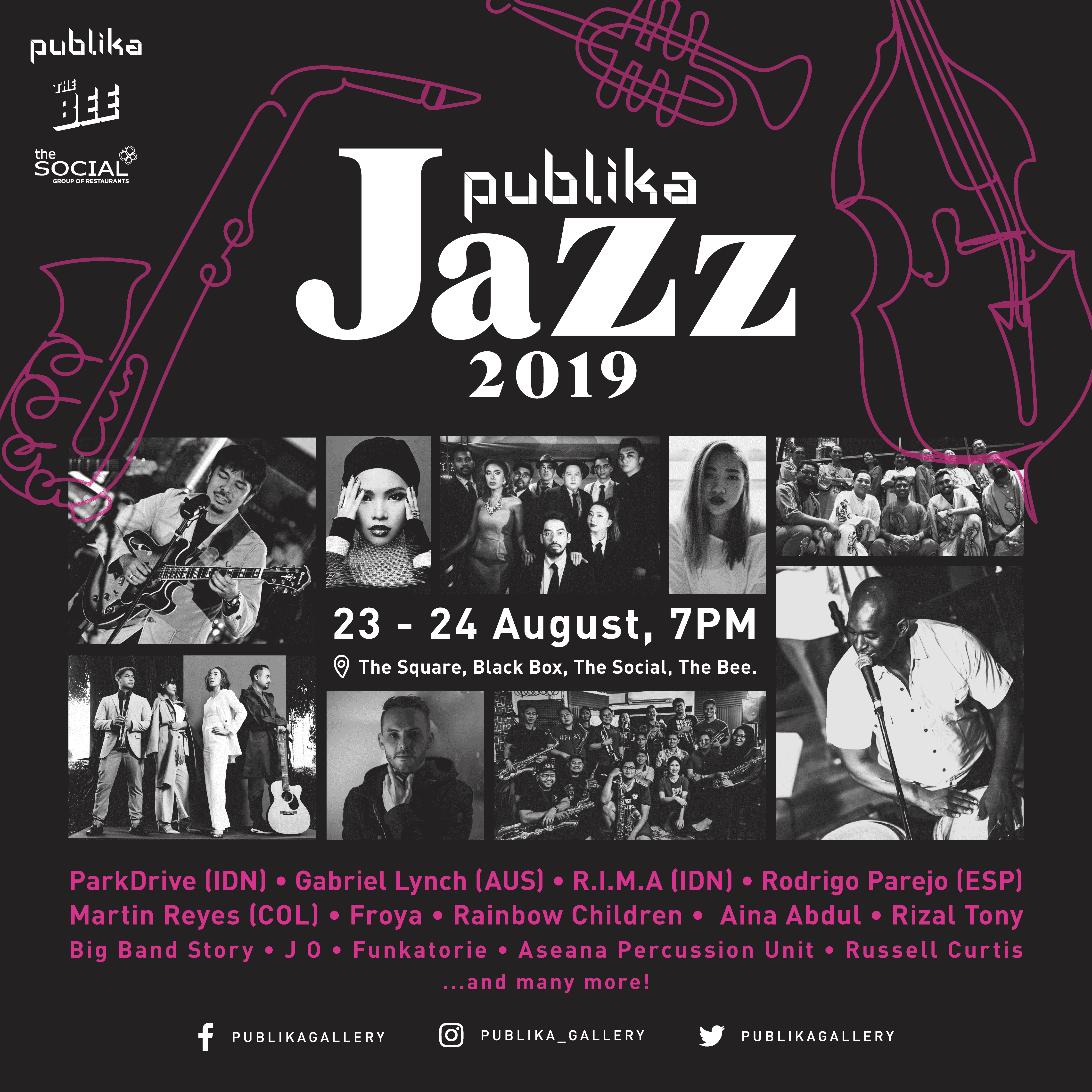 Malaysia's largest two-day jazz festival within Publika (The Square, Black Box, The Bee and The Social) will feature a line-up of local jazz talents and international musicians to bring you the groove.
Event: Publika Jazz 2019
Venue: The Square, Black Box, The Bee, The Social
Date: 23-24 Aug
Time: 7pm onwards
Free Admission
~~~~~~~~~~~~~~~~~~~~~
SCHEDULE
23 Aug 2019 – Friday
The Square
7.30pm – 8.30pm Aseana Percussion Unit
8.30pm – 9.30pm Parkdrive (Indonesia)
9.30pm – 10.30pm 9 Lives & Friends
10.30pm – 11.30pm RIMA (Indonesia)
11.30pm onwards Jam Session at The Social
Black Box
8.00pm – 9.00pm Rodrigo Parejo (Spain)
9.00pm – 10.00pm Jocelyn Wong aka JO
10.00pm – 11.00pm Pharaohs of Neptune
The Bee
8.00pm – 9.00pm Groove Messengers
9.00pm – 10.00pm Aisha Retno
10.00pm – 11.00pm Russell Curtis
24 Aug 2019 – Saturday
The Square
7.30pm – 8.30pm Funkatorie
8.30pm – 9.30pm Big Band Story
9.30pm – 10.30pm Rainbow Children
10.30pm – 11.30pm Martin Reyes (Colombia)
11.30pm onwards Jam Session at The Social
Black Box
8.00pm – 9.00pm Froya
9.00pm – 10.00pm Gabriel Lynch (Australia)
10.00pm – 11.00pm Rizal Tony
The Bee
8.00pm – 9.00pm Khodi
9.00pm – 10.00pm Tasha Aleia
10.00pm – 11.00pm Aina Abdul
DESCRIPTION
Martin Reyes (Colombia)
Martin Reyes has been singing and performing in Latin America, America, Europe and many other countries from a young age and has performed to sold-out concerts. He worked for one of the most famous bands in Venezuela Billo's Caracas Boys in Venezuela and in Colombia he has sang and performed with international bands such as Los Ineditos, Sonora Cartagena, Manhattan and many others. He has also performed at Salsa Festivals in Colombo, Sri Lanka, Singapore Mosaic International Music Festival, Singapore International Salsa Festivals.
R.I.M.A. (Renew In Mind and Attitude) (Indonesia)
R.I.M.A. is a Funk/Boogie/Dance band consisted of 7 amazingly talented gentlemen; Ivan Saba, Barry Likumahuwa, Ryan V & DJ Faith. Based in Jakarta and raised in a jazz & sometimes soul/funk musical environment had made them fall in love with music itself. Proven by the fact that they are able to play jazz lots of other tune with a simple based melody line and making people happy with their music.
Parkdrive (Indonesia)
The band's mix of Jazz, Pop, R&B, Soul, Funk and Brazilian rhythms has allowed their music to be accepted amongst a wide range of listeners, playing from high school and campus shows, corporate events, all the way up to prestigious jazz gatherings such as the Bali Jazz Festival 2005, Jazz Goes to Campus 2005, 2006, 2007 & 2010, JakJazz 2006 & 2007 and has been a regular host at the annual Jakarta International Java Jazz Festival from 2005 to 2010. By early 2007, the buzz they're created over their Indie release had spiked interests from major labels for a national distribution deal, which led to the release of a repackage album. The album added three new works on top of the previous ones; their new single "Biarkan is a classic Acid Jazz tune that showcase the band's versatility since their debut release.
Big Band Story
Big Band Story is a large jazz music ensemble based in Kuala Lumpur, Malaysia. Since 2013 they have been performing music that's from soothing melancholy jazz, folk Malay jazz, to fast big band music and hardcore swing repertoire. Influenced by namely Big Phat Band and Gordon Goodwind's music, growing up together, playing music since high school, most of the members took this opportunity to explore extended performance practice in delivering this demanding musical style. Years past and now Big Band Story is looking for an exciting stage to perform, further engagement with the jazz community, an exciting collaboration with the industry and more sophisticated music to record. With half of the members are now becoming professional musicians, this allows them to explore various other interest in jazz music and becoming more flexible with their music. The recent performance was held in Souled Out Hartamas in accordance with World Jazz Day where Big Band Story received a standing ovation from the crowd.
Aseana Percussion Unit
An electrifying, high energy percussive group with years of experience travelling and performing behind them, promises to awe you with their very own brand of music using traditional instruments from Malaysia, Asia and the world over alongside modern and electronic instruments.Most of the musicians are also multi instrumentalist and are adept at playing more than three of four instruments. Be ready to witness ethnic instruments like the Brazilian surdo, the Indian thavil and tabla, the African Djembe, the Malay gendang and kompang, the Chinese er-hu and an array of other instruments come together, blend and create a fusion of rhythms and grooves that will definitely drum up a storm and get you jumping to your feet. APU has enthralled audiences all over the world, actively participating in Music Festivals, Jazz Festivals and concerts, these past twenty years, where they have won many accolades and great reviews from local as well as foreign press and media for their excellent showmanship and exceptional stage presence.
Funkatorie
Funkatorie, the brainchild of reputable music-director/keyboardist Hin Ee Jeng, is a soul-funk-jazz band based in Kuala Lumpur, Malaysia. Originally known as The Organ Trio, the band was later expanded with the addition of horn players, simultaneously diversifying their musical style. Influenced by the likes of Soulive, Maceo Parker and Joey Defrancesco, "Funkatorie" is made up of a group of highly-regarded musicians, namely mastermind organist Hin Ee Jeng, guitarist Dean Sim, drummer Derrick Siow, saxophonist Yow Weng Wai and trumpet player Eddie Wen.
9 Lives and Friends
Many regard the Soliano family as the most talented musical family in Malaysia. The only vocal harmony group in Malaysia for the last 30 years, the Solianos got their musical genes from their great father, jazz legend Alfonso Soliano. Alfonso was a revered name in the music circles in the 70s till 90s. He founded the then Orkes RTM (Radio Television Malaysia) and helped won many awards and recognitions for Malaysia. Now in their fourth generation, the Solianos have its family members spread all over Malaysia and Singapore.
Rainbow Children (Prince Tribute)
Tribute band for the lagendary singer, Prince. Three years ago , Prince was found alone and unresponsive at 57, in an elevator at his Paisley Park Studio compound on April 21, 2016. Born Prince Rogers Nelson, he was an American singer, songwriter, musician, record producer, actor and director. Born and raised in Minneapolis, Minnesota, Prince was known for his brilliant musical genius, flamboyant stage charisma and amazing vocal range. Here is a treat for all of you, in memory of Prince, Rest In Power.
Pharaohs of Nepture
The Pharaohs of Neptune are actually a bunch of aliens from Neptune. They are no ordinary Neptunians; they love an art form that originated from Earth called music. After travelling to earth to pursue their passion, they met a friend called Professor YouTube and furthered their studies at the Youtube School of music. What about experience? They came all the way from Neptune. They have perform at various stages in Kuala Lumpur such as No Black Tie, Alexis, ATAS by BijanFX and many more.
Gabriel Lynch (Australia)
Gabriel Lynch is a singer-songwriter from Melbourne, Australia. From his energetic and vibrant live shows to his sultry and versatile vocals, many will agree he has a lot to offer to the music industry. Gabriel draws his influence from the evergreen golden era vocals.
Rodrigo Parejo (Spain)
Dynamic performance by the soulful spanish jazz flautist Rodrigo Parejo and the virtuoso Malaysian guitarist Hady Afro, together the very versatile Malaysian percussionist AKZ (Muhammad Abdul Karim), bringing a special fresh and colorful repertoire of music inspired on the different sounds and rhythms of the Latin-American and jazz music.
Froya
Froya's quirky charm and distinctive vocal has remained a constant, while her music has continued to evolve since her earliest indie pop endeavours into a more experimental, yet readily accessible, groove- driven synth electronica. Having enjoyed significant rotation on radio – both locally and internationally – the self-produced songbird has also performed as featured artist at a few prestigious music festivals in Asia such as Aliwal Urban Art Festival 2019, Good Vibes Festival 2018, St. Jerome's Laneway Festival Singapore 2017, Good Vibes Festival 2014 & 2016, Singapore's BayBeats Festival and Music Matters Live. Along the away she has shared the same stage with the likes of Lorde, Alt-J, Ellie Goulding, Glass Animals, Tash Sultana, Aurora, Nao, Banks, Nick Murphy (Chet Faker) and Disclosure.
Rizal Tony
Rizal Ezuan Zulkifly Tony, also known as Rizal Tony is a full time music educator, jazz guitarist, musician, music director, music arranger and composer from UiTM (Universiti Teknologi MARA) who collaborates with local, international musicians and artists . After spending more than a decade performing, teaching, arranging and composing in jazz and popular music. Rizal has landed coverage in music performance outlets in Malaysia and around the world. He has also accompanied artists lik Noryn Aziz, Rachel Guerzo, Ruffedge, V.E, Adibah Noor, Aishah, Sharizan, and many more. In addition to his extensive teaching and performing experience, Rizal Tony is a trained music composer and arranger.
Rizal Tony holds a Master of Music in jazz guitar performance, graduating with distinction from the Australian National University, Canberra, Australia.
Jocelyn a.k.a. JO
Jocelyn started learning music since she was four-years-old, first attending piano/ electone classes in Yamaha Music School, then slowly developing strong interests towards violin and singing. Throughout her schooling years, she has been actively involved in onstage activities such as public speaking, dancing, singing and then later, playing in bands and performing in wedding functions, hotel gigs and private functions. She started writing her own songs since she was 13, started her own band at the age of 15, and is self-taught in singing. Jocelyn's music genre is a wide range of pop, rock, RnB, funk and pop jazz. Leaning towards being an independent solo artist, her showcase had just debuted at Laundry Bar at The Curve, performing covers as well as her own compositions. Now primarily a singer/ songwriter, Jocelyn is involved in mostly performances as well as private instruction in piano, violin and singing. She has taught over 20 students at various music centers since 2012. Her achievements include LTCL Diploma in Piano, ATCL Diploma in Violin, and Berklee Transfer Program course completion at International College of Music.
Aina Abdul
Nurul Aina's talent was discovered in her early years of primary education by her teacher, Puan Shamsiah, who organized a talent audition which required everyone to participate. Since then, Nurul has competed in various singing competitions in and around her hometown of Negeri Sembilan. The first singing competition that she joined was Sayembara Puisi in which she grabbed .She was active in school events as well as extra-curricular activities. After school hours,she was active in a traditional instrument group called Cak Lempong lead by Cikgu Zakaria, where Nurul was the main singer. Ocassionally, they performed at weddings and government functions.
Aisha Retno
Aisha Retno, an 18 year-old talent who's still growing is a new Malaysian vocalist, cites Ariana Grande as well as Alicia Keys as her role models. Not only singing, she's also currently studying and is capable of playing musical instrument as she sees herself as a successful singer in the future.
Groove Messengers
Founded by the one of Malaysia's promising and talented drummers Bob Skunjas, who is also the backbone of the band Fieldplayers. The band also plays for Jesseltone, Tilu and has been playing to back some of Malaysia's top artists and also been seen gigging in the jazz festivals scene with such names like Amirah Ali, Patrick Tebrack, John Dip Silas, Albert Yap and many more.
Russell Curtis
Recording artist Russell Curtis is certainly no stranger to the Malaysian music industry. His experience has taken him past the shores of Malaysia to perform in Singapore, Manila, London, New York, Los Angeles, San Francisco and even Las Vegas. Earlier this year, Curtis renamed his band to Russell Curtis and The Rowdy Gentlemen. Featuring a line up of seven accomplished musicians, they released their first single together titled "Anak Malaysia" for Malaysia Day. An upbeat number, the song highlights the many things that unites Malaysians. Band members are shown ordering favourite snacks in different languages with the message of embracing the diversity. Besides Curtis, The Rowdy Gentlemen comprises six well-rounded session musicians, including Sabahan Jude Macson Bensing of GTXperiment on guitar and trumpeter Khairul Anwar of the National Symphony Orchestra.
Khodi
The young and upcoming soulful songstress, Khodi is well on her way to spreading her wings and breaking the music scene as the new voice of R&B, Jazz and Soul. She is known for her smooth artful vocals that is distinctively 'Khodi' on stage.
Tasha Aleia
Tasha Aleia may be a relatively fresh face on the circuit, but one that has fast gained a glowing reputation. Bringing her own unique style of Pop, Soul, and RnB, her energy on stage is infectious, and combined with her soothing and sultry vocals, she's able to make any venue come to life. Now 23, the KL born takes inspiration from artists like Beyonce, SZA, Ariana Grande and Bruno Mars. She has shared the stage with Ne-Yo at Air Asia's 14th Anniversary Party and was the runner up for the Southeast Asia's Rock Pop & Soul Competition in Vietnam. Tasha also won the Soulfest Competition to headline the mainstage of Soulfest Asia joining the likes of Mary J Blige, Omarion and Jhene Aiko and is currently a signed artist under Sony Music Malaysia working on a single and EP.