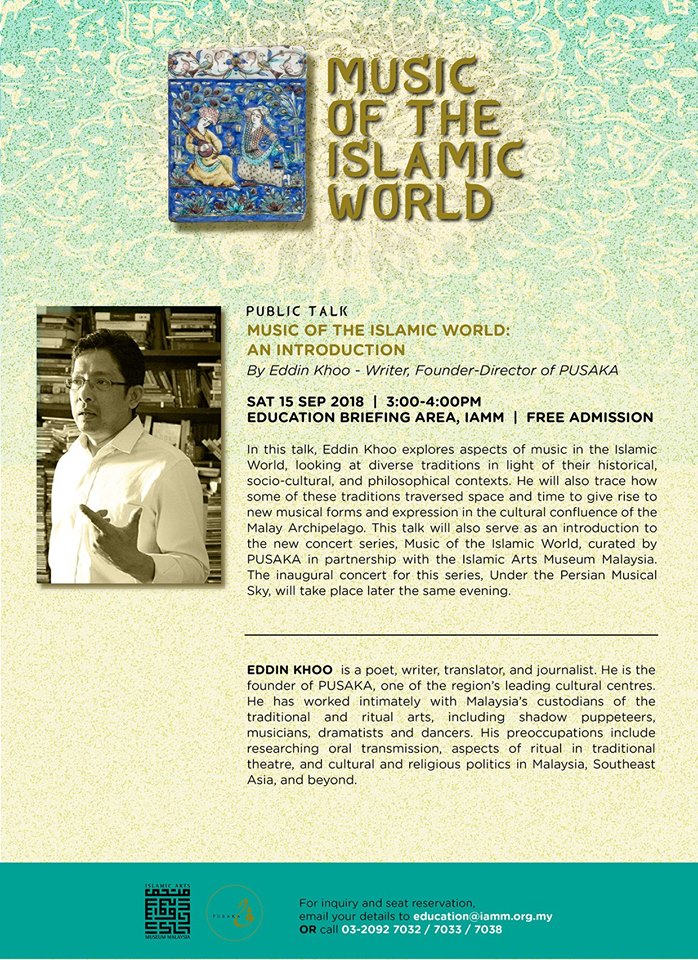 PUBLIC TALK | Music of the Islamic World: An Introduction
By Eddin Khoo, Writer, Founder-Director, PUSAKA
Date: Saturday, 15 September 2018
Time: 3:00-4:00PM
Place: Education Briefing Area, Islamic Arts Museum Malaysia
Jalan Lembah Perdana, 50480 Kuala Lumpur
Free admission
For inquiry and seat reservation, please email your details to: [email protected] OR call: 03-2092 7032/ 7033/ 7038
In this talk, Eddin Khoo explores aspects of music in the Islamic World, looking at diverse traditions in light of their historical, socio-cultural, and philosophical contexts. He will also trace how some of these traditions traversed space and time to give rise to new musical forms and expression in the cultural confluence of the Malay Archipelago. This talk will also serve as an introduction to the new concert series, Music of the Islamic World, curated by PUSAKA in partnership with the Islamic Arts Museum Malaysia.
The inaugural concert for this series, Under the Persian Musical Sky — with Persian master musicians Kayhan Kalhor, Kiya Tabassian and Ziya Tabassian — will take place later the same evening at 8:30PM at the Auditorium, Islamic Arts Museum.
For more information on the concert and to book tickets, please contact: [email protected]
——————————-
Eddin Khoo is a poet, writer, translator, and journalist. He is the founder of PUSAKA, one of the region's leading cultural centres. He has worked intimately with Malaysia's custodians of the traditional and ritual arts, including shadow puppeteers, musicians, dramatists and dancers. His preoccupations include researching oral transmission, aspects of ritual in traditional theatre, and cultural and religious politics in Malaysia, Southeast Asia, and beyond.
Event Dates
Venue
Website