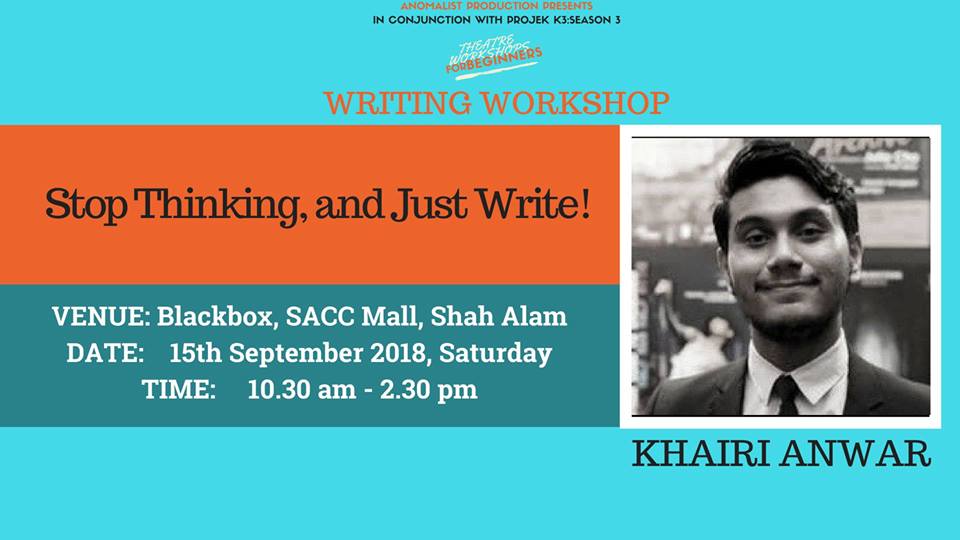 Projek K3 Writing Workshop: Stop Thinking, and Just Write!
ANOMALIST PRODUCTION PRESENTS
IN CONJUNCTION WITH PROJEK K3: SEASON 3
WRITING WORKSHOP by KHAIRI ANWAR
TITLE: Stop Thinking, and Just Write!
DATE: 15th September 2018
TIME: 10.30 AM – 2.30 PM
VENUE: [email protected] SACC Mall, Shah Alam
PACKAGE DEALS
RM70 for 1-WORKSHOP
RM180 for 3-WORKSHOPS
RM300 for 6-WORKSHOPS
RM360 for 9-WORKSHOPS
WRITING WORKSHOPS
8th Sept 2018 by MARINA TAN
15th Sept 2018 by KHAIRI ANWAR
22nd Sept 2018 by ADRIANA NORDIN MANAN
DIRECTING WORKSHOPS
29th Sept 2018 by KHAIRI ANWAR
6th Oct 2018 by CHRISTOPHER LING
14th Oct 2018 by ESTHER LIEW
ACTING WORKSHOPS
27th Oct 2018 by RANESSA THEYAKARAJA
3rd Nov 2018 by KHAIRI ANWAR
10th Nov 2018 by NABIL ZAKARIA
Suitable for Beginners/Amateur level artist.
Workshops will be conducted in English and Malay.
Limited to only 20 Participants per workshop.
Food and drinks are not provided.
Register online at www.anomalistproduction.com
For further information contact Rihdwan at +60175736287
About the MENTOR:
Khairi Anwar is the Artistic Director of Anomalist Production, based in Kuala Lumpur.
His first script, Teater Bangsa: Anak Kecil Main Api (Children Playing With Fire), won the Audience Choice Award at the Boh Cameronian Arts Award in 2016. His latest work, IQ.Rock, was staged to critical acclaim in early 2018, have been restaged later in August 2018.
Khairi graduated from UiTM Law School, but he has been very active in the theatre scene since 2013.
He has written 4 full length plays, 4 short plays, directed more than 8 shows and produced more than 10 productions since 2014.
He wants to focus in telling the stories about us, Malaysians, and he hopes in the future that we will choose to watch a Malaysian film/theatre rather than foreign movies or shows.
'Malaysia has a lot of untold stories, rich stories, we just have to take pride in it' – Khairi –
Event Dates
Venue
Website
Tickets Link