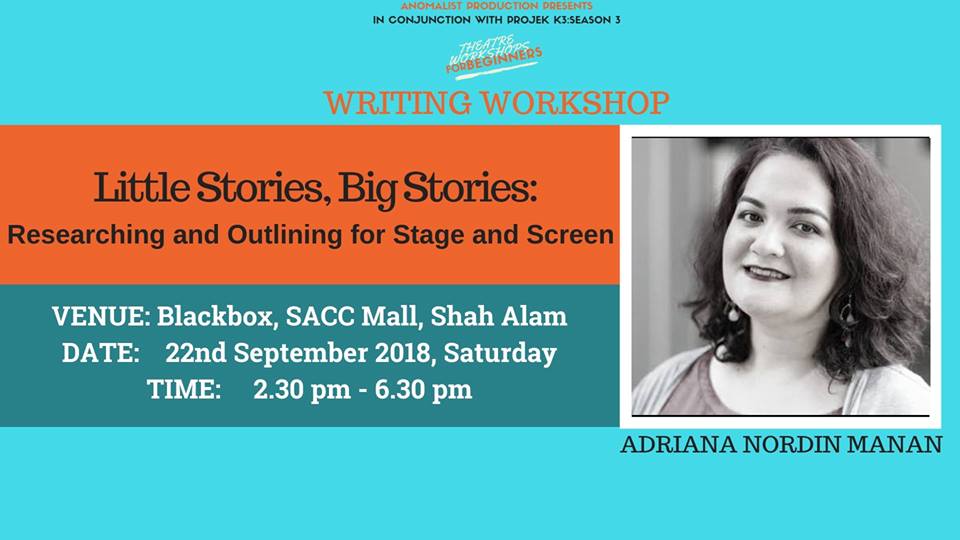 WRITING WORKSHOP by ADRIANA NORDIN MANAN
ANOMALIST PRODUCTION PRESENTS
IN CONJUNCTION WITH PROJEK K3: SEASON 3
TITLE: Little Stories, Big Stories: Researching and Outlining for
Stage and Screen
DATE: 22nd September 2018
TIME: 2.30 PM – 6.30 PM
VENUE: [email protected] SACC Mall, Shah Alam
PACKAGE DEALS
RM70 for 1-WORKSHOP
RM180 for 3-WORKSHOPS
RM300 for 6-WORKSHOPS
RM360 for 9-WORKSHOPS
Suitable for Beginners/Amateur level artist
Workshops will be conducted in English and Malay
Limited to only 20 Participants per workshop
Food and drinks are not provided
Register online at www.anomalistproduction.com
For further information contact Rihdwan at +60175736287
About the MENTOR:
Adriana Nordin Manan is a writer, researcher, translator, screenwriter, and playwright-in-progress.
Born, raised, and based in KL, her writing for theatre has been performed in KL, Penang, Singapore, and New York.
She is the co-founder of UnRepresented: KL, a writing program centered on KL and the less heard of narratives in its midst.
Adriana has a Masters in Politics from New York University and she likes to learn and share about the creative process by artists of different mediums.
She has lived in three continents, speaks Malay, English, and Spanish, and has a career background in policy research and strategy consulting.
Event Dates
Venue
Website
For Enquiries