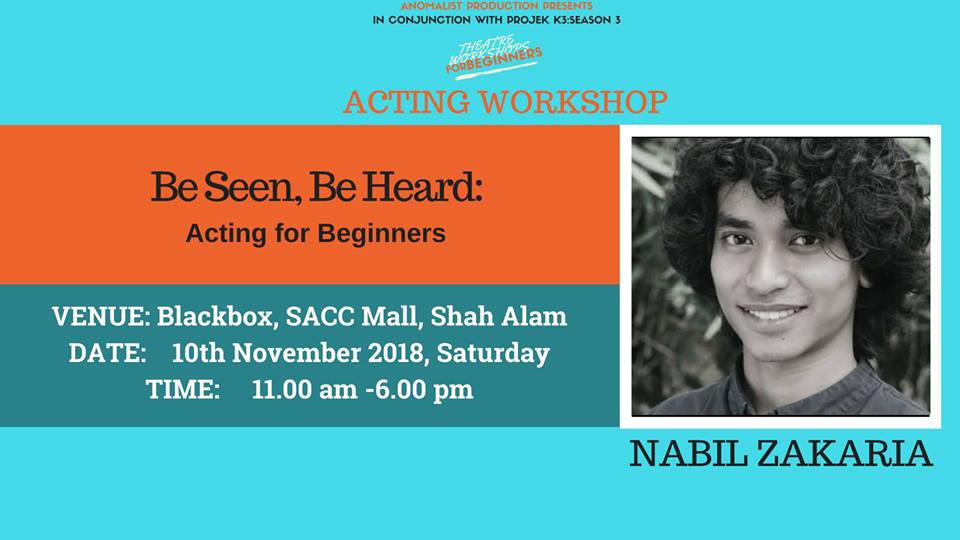 Projek K3 Acting Workshop: Be Seen, Be Heard
ACTING WORKSHOP by NABIL ZAKARIA
TITLE: Be Seen, Be Heard: Acting for Beginners
DATE: 10th November 2018
TIME: 11.00AM – 6.00 PM
VENUE: [email protected] SACC Mall, Shah Alam
***
PACKAGE DEALS
RM70 for 1-WORKSHOP
RM180 for 3-WORKSHOPS
RM300 for 6-WORKSHOPS
RM360 for 9-WORKSHOPS
Suitable for Beginners/Amateur level artist.Workshops will be conducted in English and Malay
Limited to only 20 Participants per workshop
Food and drinks are not provided
Register online at www.anomalistproduction.com
For further information contact Rihdwan at +60175736287
***
About the MENTOR
Nabil Zakaria has been acting since he joined the Theatre for Young People (T4YP) Season 2010 program under the supervision of the Kuala Lumpur Performing Arts Centre (KLPac).
Ever since then, he has performed at theatres such as The Arts House in Singapore, Istana Budaya, Penangpac, Damansara Performing Arts Centre and many others in works.
His dream is to one day act with Daniel Day-Lewis under the direction of either Quentin Tarantino, Christopher Nolan, Paul Thomas Anderson or Dain Said, and learn more about himself at the same time.
Event Dates
Venue
Website