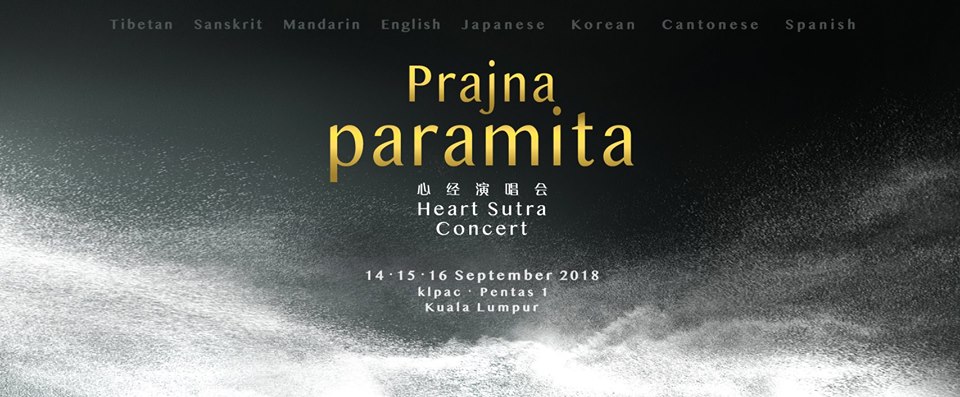 Imee Ooi , JSJG and team of international dancers coming back to klpac after the successful
tour of Sound of Wisdom and Sound of Metta concert series. Prajna Paramita – Heart Sutra Concert,
a unique stage production created and directed by Imee Ooi , combining musical theatre arts with New-age and ancient sounds, presenting the Heart Sutra in different languages and dialects, with purpose to heal and touch heart and soul through serenity and energy of music.
黄慧音全新创意制作,一齣《心经》的专场。结合舞台剧和新世纪音乐呈献各种语言的心经。
演出团队除了黄慧音和净世金刚主唱,也邀请著名舞蹈家和演唱嘉宾一起圆满为净化,抚慰和启发身心灵的佛乐舞台艺术表演。
Ticket Hotline: WhatsApp: 011-1287 9139
Ticket sales commence on
6 July 2018, 12pm onwards 开始售票
Online Purchase: www.ticketpro.com.my
klpac Box Office: 603-4047 9000
Age limit: 7 years old & above, entry with valid ticket.
Language: Tibetan, Sanskrit, Mandarin, English, Japanese, Korean, Cantonese and Spanish.
Venue 地点:
klpac, Pentas 1(Kuala Lumpur, Malaysia)
Date 日期/ Time 时间:
14/09/2018 – Friday 8.30pm
15/09/2018 – Saturday 8.30pm
16/09/2018 – Sunday 3.00pm
Ticket price 票价:
RM 150 / 100 / 70