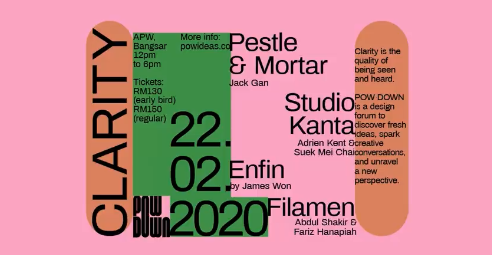 POW DOWN is a design forum born from POW-WOW, a series of informal art & design sharing sessions organized by POW Ideas from 2016-2018.
The inaugural POW DOWN will feature four panel speakers with diverse backgrounds ranging from fashion to culinary and projection mapping. They are :
1) JACK GAN of PESTLE & MORTAR
2) ADRIEN KENT & SUEK MEI CHAI of STUDIO KANTA
3) JAMES WON of ENFIN BY JAMES WON
4) ABDUL SHAKIR & FARIZ HANAPIAH of FILAMEN
Themed "CLARITY," the forum examines the speakers' journey in striving for clearness in their body of works, how they desire to be seen and heard and why obscurity can blur boundaries in their creative process.
The session will feature presentations of their collection of works and processes, culminating into a discourse with the moderators.
EVENT PROGRAMME
12:00PM Arrivals & Registration
1:00PM Introduction & Welcome Speech
1:30PM Speaker 01 – Filamen
2:00PM Speaker 02 – Pestle & Mortar
2:30PM Speaker 01 & 02 Forum
– Moderated by Nadirah Zakariya
3:15PM Short Break
3:45PM Speaker 03 – James Won
4:15PM Speaker 04 – Studio Kanta
4:45PM Speaker 03 & 04 Forum
– Moderated by Affendy Ali
5:30PM Closing Note
6:00PM Finish
EVENT DETAILS
DATE : 22.2.2020
TIME : 12-6PM
LOCATION : APW BANGSAR
TICKET PRICE :
RM130 (EARLY BIRD UNTIL 24/1/2020 )
RM150 (REGULAR)