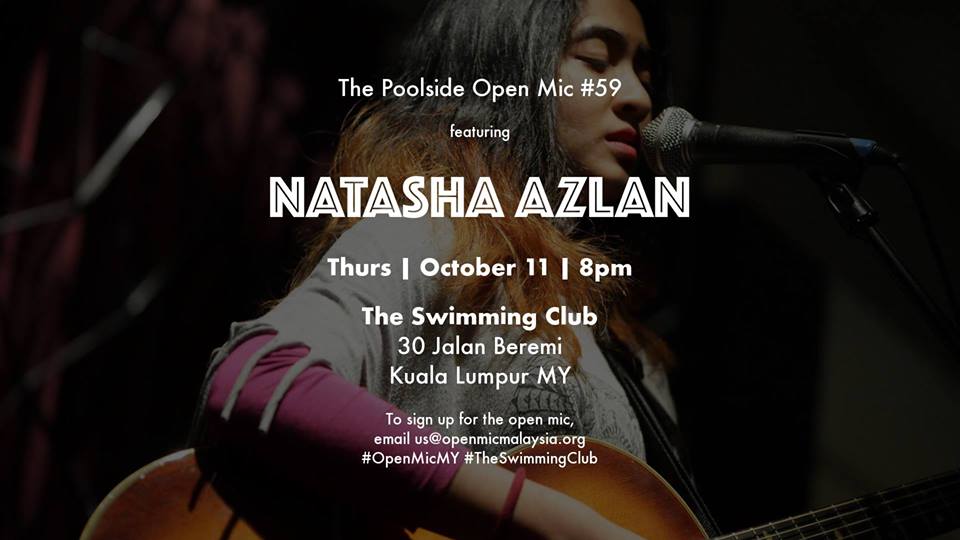 Poolside Open Mic is our 3rd longest running open mic night which happens every Thursday evening right on TOP of The KL Journal! Each installation features one of our finest musicians, with this one featuring…
NATASHA AZLAN
Natasha Azlan started open mic-ing regularly in Feb 2018 and hasn't stopped since.
She likes the likes of Ella Fitzgerald, Amy Winehouse, Tony Bennett & Madeleine Peyroux, and thus covers jazz and blues from time to time.
A few months ago, she's begun to write her own songs – think slow jazzy blues and folk (she thinks so lah).
Follow her: https://www.instagram.com/natashaazlanr/
OPEN MIC
#1 Hongman
#2 Aishah Soraya
#3 Ariff Akhir
#4 Fathee
#5 Modern Mischief
#6 Tilla
#7 Azlan Ramli
#8 Amr Mohsen
To sign up for the open mic, email [email protected]
Open Mic Malaysia is the brainchild of Shaneil Devaser, frontman of The Endleaves.
Established in 2012 and currently operating in Kuala Lumpur, Kota Kinabalu and Johor Bahru, Open Mic Malaysia aims to create sustainable avenues for bedroom musicians, singer-songwriters and professional musicians to share their music and experiences with each other and the public, over evenings of wholesome indie goodness.
In partnership with other like-minded musicians from across the country, Open Mic Malaysia aims to…
Make Malaysia Great (for indie music) Again.
Event Dates
Venue
Website