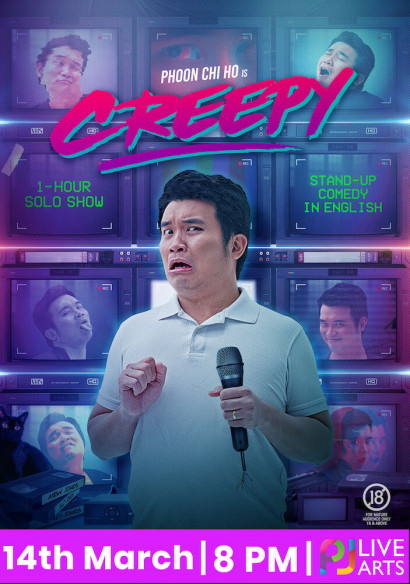 After the huge success of the 1st round of CREEPY, Chi Ho has decided to creep you out one more time with CREEPY AGAIN. One of Malaysia's most talked about stand-up comedy veterans will serve you with a compilation of his favourite as well as his most recent stories that will leave you begging for more.
One of the pioneers of Kuala Lumpur's underground comedy scene, he is best known for being one part of Douglas Lim's Malaysian Association of Chinese Comedians, and has shared the stage with comedy greats like Dara O' Briain (by coincidence), Ed Byrne (also by coincidence), Harith Iskander and Afdlin Shauki, just to name a few. On TV, he has appeared on Astro Warna's Cakap Melayu Lah, Komediri (2 seasons) and was one of the first Asian comedians to be curated for Comedy Central Asia's Stand Up, Asia! Soon, he'll be on Astro's Sedapnya Mulut! On the silver screen, he begged a supporting role, playing a ghost hunter, on Mamat Khalid's Lari Hantu… Lari! As a scriptwriter, he wrote for sitcoms Small Mission Enterprise (3 seasons), Oh My English! and, more recently, Club Mickey Mouse.
Outside of comedy, Chi Ho is one of the most well-known faces in advertising world having written, directed and acted in countless local as well as international commercials across all media platforms.
So get your tickets and we will see you very very soon!