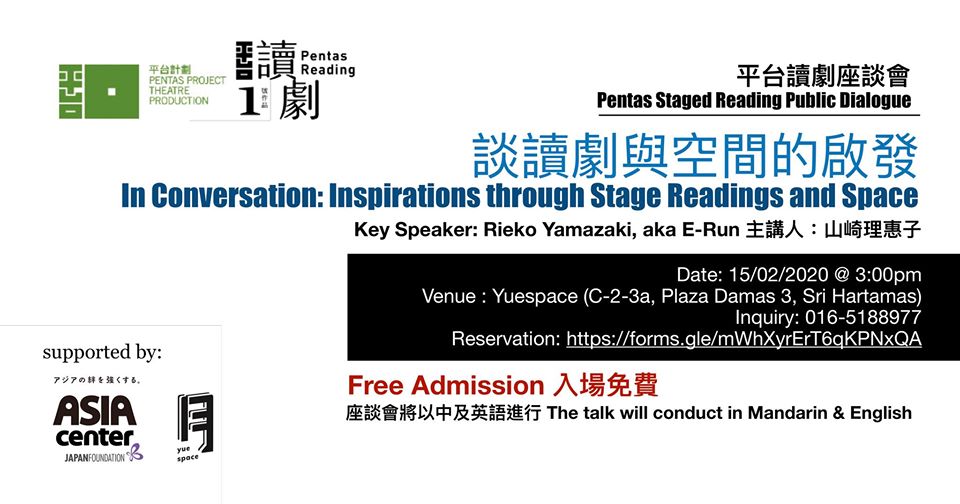 Pentas Staged Reading Public Dialogue
<In Conversation: Inspirations through Stage Readings and Space>
Key Speaker: Rieko Yamazaki, aka E-Run, the Chinese translator of the script "The Games of Polyamory Life" A foreign student in China during her early years, she translated Japanese scripts into Chinese to introduce to Beijing for staging. Post-2000, she resides in Hong Kong, promoting "staged readings" to realise her belief on how theatre cultural exchanges could be done – because a script can allow us to understand a country or society. To this end, she set up Asian Rib in 2017.
The forum will share:
📎 From Japan's current listing of more than 6000 theatre groups, Rieko Yamazaki will curate a summary of interesting theatre groups and her personal works
📎 An introductory overview of Japan's 30-year history of staged readings, from its origins awakened by societal events in the 80's to the import of American scripts for commercial staging in the 90's, and other observations.
📎 The founding and evolution of Asian Rib
Inquiry: 016-5188977
Reservation: https://forms.gle/mWhXyrErT6qKPNxQA
🚪Free Admission
🗝The talk will conduct in Mandarin & English
Supported by : Asia Center, The Japan Foundation and Yuespace
**************************************
「談讀劇與空間的啟發」
主講人山崎理惠子(E-Run),亦是《多重戀愛人生遊戲》劇本中文譯者。早年留學中國,將日本劇本翻譯成中文引入北京演出;2000年後駐居香港,進行長期翻譯劇的演出。推動"讀劇"是理惠子對劇場文化交流的理念,她認為可以通過劇本認識一個國家和社會,為此於2017年創立了"日本亞細亞之骨"。
座談會分享:
📎日本目前有超過6,000家劇團,理惠子將挑選簡介部份有趣劇團以及她個人的創作。
📎介紹迄今已有30年歷史的日本讀劇概況,從80年代通過對社會事件的覺醒始發,到90年代引入美國劇本作為讀劇商演等觀察分享。
📎亞細亞之骨的創立與發展分享。
主辦單位:平台計劃
主講人:山崎理惠子
日期:15/02/2020 @ 3:00pm
地點:Yuespace (C-2-3a, plaza Damas 3, sri Hartamas)
inquiry: 016-5188977
出席報名:https://forms.gle/mWhXyrErT6qKPNxQA
入場免費
座談會將以中及英語進行
Supported by : Asia Center, The Japan Foundation and Yuespace