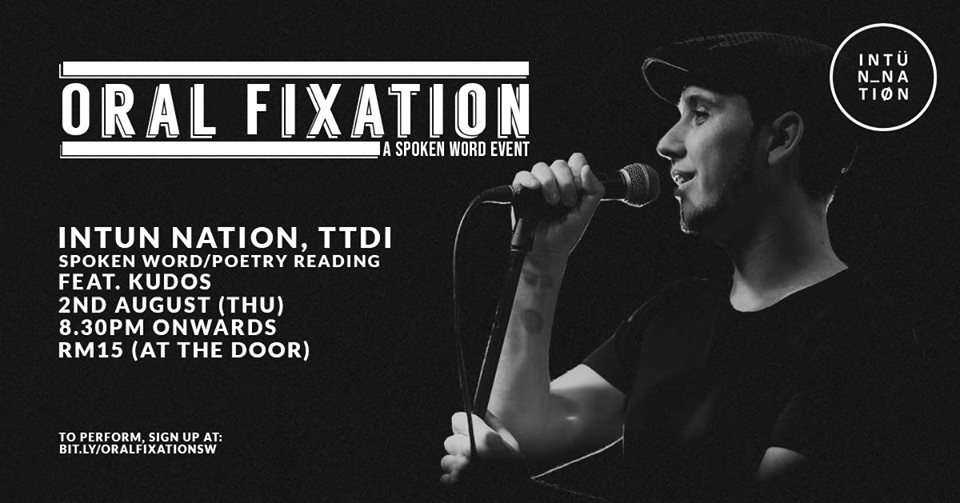 Oral Fixation is a monthly platform for new and veterans alike to perform spoken word pieces or other forms of poetry. Performances are not limited to spoken word; monologues from plays, poetry recitals, Shakespeare lines and the lot, are also eligible.
If you'd like to perform you may register at: http://bit.ly/oralfixationsw
Featured Act:
KUDOS
– Kudos loves to rhyme words together. What started as a childhood enjoyment has slowly blossomed over the years into a compulsive obsession which will most likely leave him gasping for breath, lying in a puddle of his own piss. As he lies there, slowly dying, he will be left reaching towards one last attempt to convince people that orange rhymes with porridge. But until that happens here he is once again sharing his words with you in the only way he knows how, Rhyme.
Poet List:
Alex M. Voros
Ari Adzmin
Sheryl Lynn Chan
More TBA
Tickets: RM15 (at the door)
Time: 8:30 pm
Location: InTun Nation
147A, Jalan Aminuddin Baki, Taman Tun Dr. Ismail,
Kuala Lumpur, Malaysia (Second Floor, Above the Mamak)
OR simply search for "InTunNation" on Waze
For further information you may contact us at: [email protected]
Or visit our fb page: https://www.facebook.com/oralfixationsw/