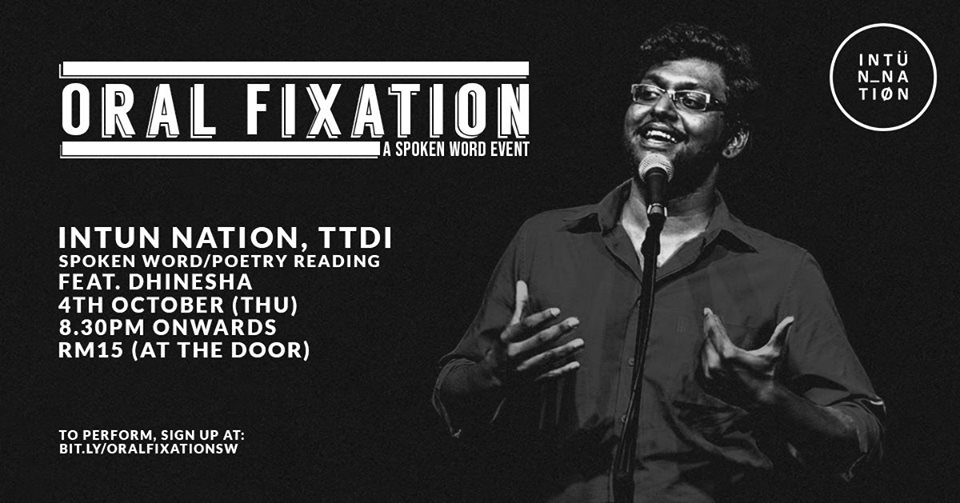 Oral Fixation is a monthly platform for new and veterans alike to perform spoken word pieces or other forms of poetry. Performances are not limited to spoken word; monologues from plays, poetry recitals, Shakespeare lines and the lot, are also eligible.
If you'd like to perform you may register at: http://bit.ly/oralfixationsw
Featured Act:
DHINESHA
– Dhinesha is a multi medium queer storyteller, coach and future full time father. He is the Causeway Exchange (CEX) 2017 Poetry Slam Champion, playwright of Silk & Strings: The Truth of Bullying and the co-producer and co-curator of 'The Human Exhibit: Mentalhealth.
Apart from featuring at or being seen at open mic gigs, he was last part of Speak City Asia and theatrethreesixty's first spoken word immersive theatre production 'Malaysia Throws Herself A Birthday Party'.
Poet List:
Ari Adzmin
More TBA
Tickets: RM15 (at the door)
Time: 8:30 pm
Location: InTun Nation
147A, Jalan Aminuddin Baki, Taman Tun Dr. Ismail,
Kuala Lumpur, Malaysia (Second Floor, Above the Mamak, Restoran Maulana)
OR simply search for "InTunNation" on Waze
For further information you may contact us at: [email protected]
Event Dates
Venue
Website