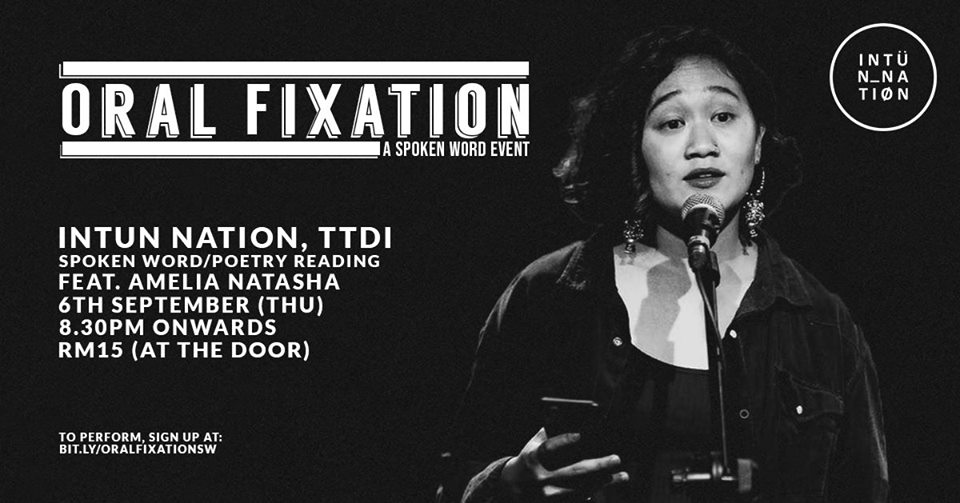 Oral Fixation is a monthly platform for new and veterans alike to perform spoken word pieces or other forms of poetry. Performances are not limited to spoken word; monologues from plays, poetry recitals, Shakespeare lines and the lot, are also eligible.
If you'd like to perform you may register at: http://bit.ly/oralfixationsw
Featured Act:
AMELIA NATASHA
– Amelia graduated with a double major in Mathematics and Psychology before furthering her studies in Early Childhood Education, hoping to create safe spaces for children and community development. She was a part of a cultural rehabilitation project for the Maori people, which triggered her research into her own identity and self. Her first book – the Blue Yemoja – was the result of that, an ode to the women who have raised her.
Poet List:
Ari Adzmin
Jiin
Kalimat
Mochi
Sheryl
More TBA
Tickets: RM15 (at the door)
Time: 8:30 pm
Location: InTun Nation
147A, Jalan Aminuddin Baki, Taman Tun Dr. Ismail,
Kuala Lumpur, Malaysia (Second Floor, Above the Mamak, Restoran Maulana)
OR simply search for "InTunNation" on Waze
For further information you may contact us at: [email protected]
Or visit our fb page: https://www.facebook.com/oralfixationsw/
Event Dates
Venue
Website