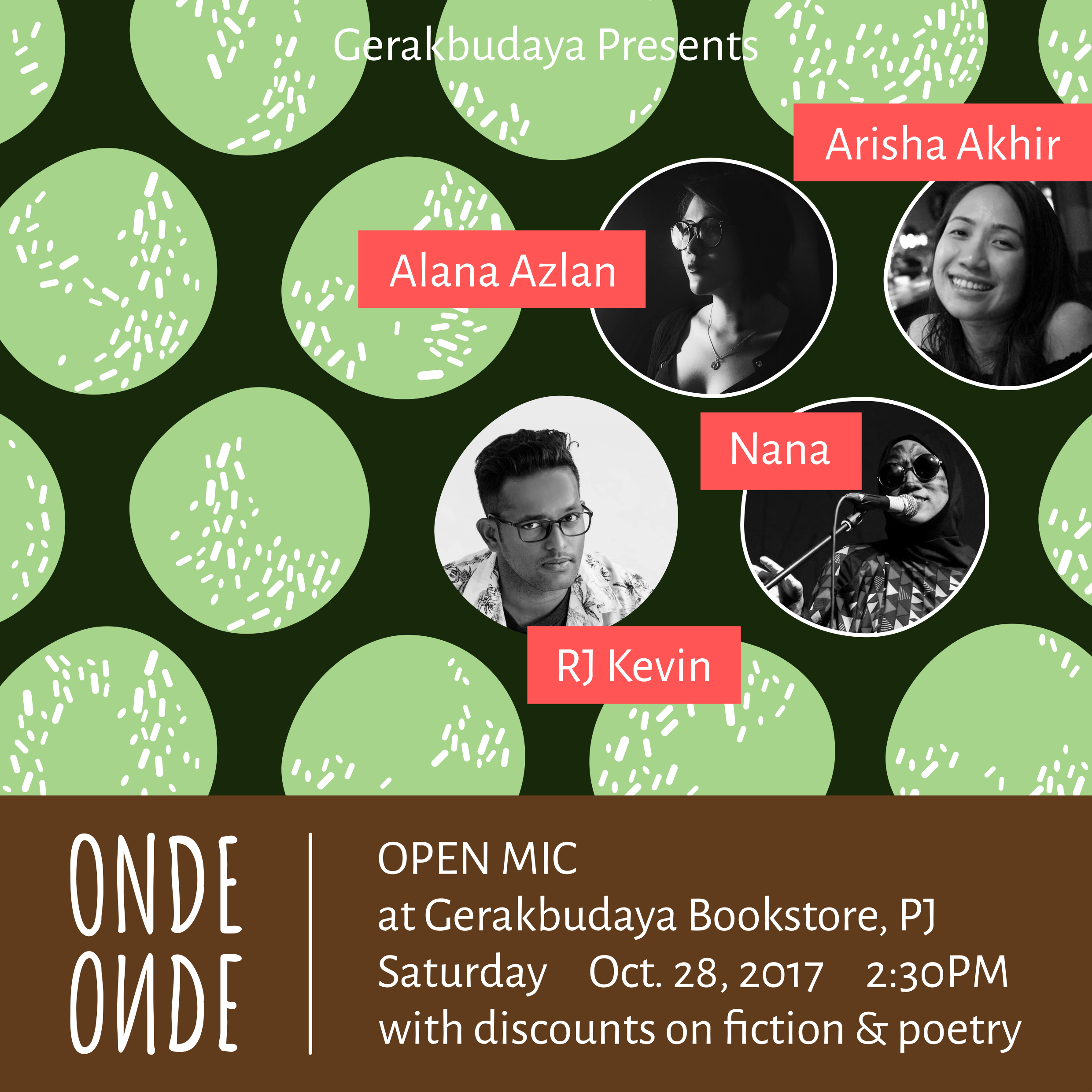 Gerakbudaya's Onde Onde Open Mic is a new monthly multi-genre showcase of Malaysian secrets and narratives — with childhood snacks and discounts on selected fiction and poetry books.
FEATURED ACTS:
ALANA AZLAN is a Malaysian writer and poet of Malay and Spanish-Filipino descent. She discovered her true love and passion for poetry in university through pursuing a degree in English Literature, and through the influence of inspirational people and experiences. She entered Kuala Lumpur's spoken word poetry scene in 2010, performing at a number of slams, gigs, and events including 100 Thousand Poets For Change and Incitement KL's The Power of Words, featuring American poets and activists Sarah Kay and Phil Kaye. She and her college compatriots founded a group called Lip Movement Poetry, that encourages folks of all walks of life to participate in the joy of expression, in the wonder of poetry. However, it has been put aside temporarily by the author, but like herself is still a work in progress. A Female Called Psyche is her first solo publication – some of her works have been previously published in the Asian Centre Anthology of Malaysian Poetry in English by Prof. Dato' Dr Ghulam-Sarwar Yousof. In her spare time, she indulges in marital bliss, content in living a humble life with her most patient, loving husband and their fur-child Aioli.
ARISHA AKHIR, a published spoken word poet, has 2 and a half books out. 2 being volumes of poetry entitled Uncertainty (2014) and Still (2015), and the half being a chapbook of her spoken word pieces entitled Small, released in June 2017. Arisha teaches poetry by day, and performs poetry by night and finds the time in between to write and do laundry. Her first volume of Malay poetry entitled, Rahsia, will be forthcoming in November 2017.
NANA writes and performs in Malaysian, Indonesian, English and paper. She was the winner of the first ever Malay Poetry Slam (Rentap Puisi) for Festival Belia 2014; writer and performer as Puteri Duyung in Pontianak, an all women spoken word ensemble with Poetry Cafe KL; and featured poet in 2015 at If Walls Could Talk. She also has an avid interest in education through poetry and arts and has been teaching in Malaysia and even Brunei.
With his single mother's encouragement, shy and self-doubting RJ KEVIN picked up music through YouTube and fell in love with singing and songwriting.This biomedical science graduate from University Tunku Abdul Rahman, Kampar made a name for himself in his sophomore year when he joined the acoustic band Virgin Boys as lead vocalist. Since graduating, RJ has performed in various venues — from busking at night markets to featuring at festivals and concerts. He is known as "Malaysia's Bruno Mars" for his energy and soulful voice, while his songwriting draws comparisons to Ed Sheeran's. Music got RJ through depression, so he wishes to give back by sharing the joy of performing and inspiring people to believe in their dreams.
Gerakbudaya – 'movement of cultures' – is a community hub and bookstore of critical and alternative perspectives and hidden histories of Southeast Asia and the wider world.