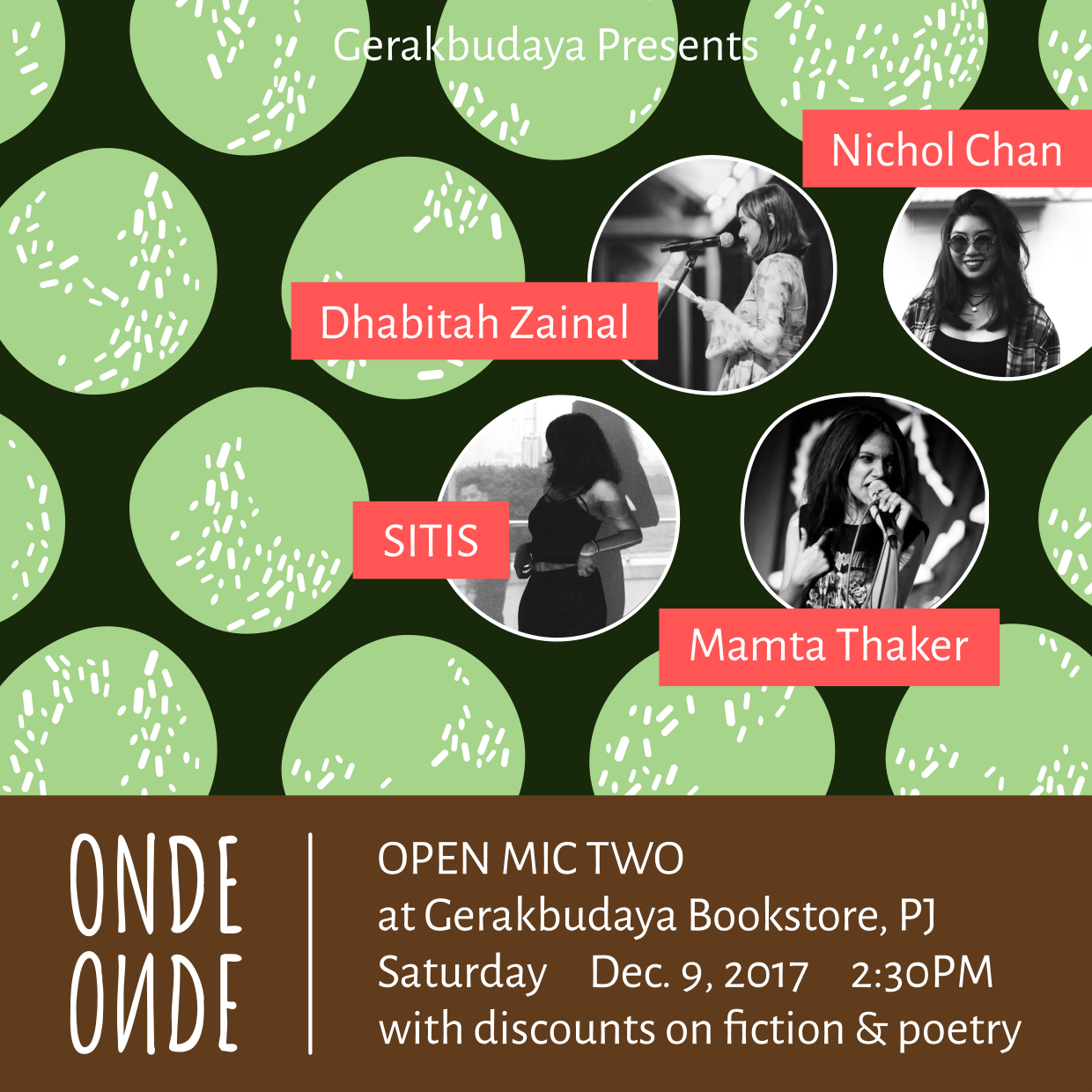 Gerakbudaya's Onde Onde Open Mic is a new bimonthly multi-genre open house of Malaysian secrets and narratives — with childhood snacks and discounts on selected fiction and poetry books.
Gerakbudaya — 'movement of cultures' — is a community hub and bookstore of critical and alternative perspectives and hidden histories of Southeast Asia and the wider world.
FEATURED ACTS:
DHABITAH ZAINAL is a writer and spoken word poet. She won her first poetry slam, Slamokrasi in 2016 and went on to compete against the Singaporean team in the CausewayEXchange Poetry Slam before publishing her chapbook under Speak City Asia.
MAMTA THAKER is a law graduate with a passion for music. She started learning classical piano at the age of 7 and continued to experiment with the guitar and tabla. She enjoys performing and even started her band, Smoking Simple, back in 2012. Even though she has been out of the performing game for awhile, she's excited to make a comeback!
NICHOL CHAN was born and raised in sunny small town Ipoh. Having a passion for music and performance ever since she could remember, she picked up the guitar on her own, started learning to strum and sing as a way to pass time, and most importantly, a way to express her heart and soul. She has performed at many venues and events with her warm, jazzy acoustic music including but not limited to open mics, charity events and cafes. Her songs tell stories of her journey in life and the countless people that have influenced and changed her outlook on life. Her personal favourite songs to cover are La Vie En Rose, Redbone, Bulletproof, and Toxic, which she has also made covers of on her Sound Cloud and YouTube platform and performed in her very own version to her audience.
SITIS started writing when she was 15, when hormones took over. She experienced her first heart break back then and decided to write her feelings down in a blog. Ever since, her favourite topics are about LUST and ROMANCE. She believes that everyone has gotten their asses whipped and trapped by love, at least once. #hoeism was her first zine project which was sold out within the first week. The zine was printed out in three volumes, where each volume spoke about different relationships she was involved with after a bad break up (read: it was a coping mechanism). The whole idea of the title was because she never got used to the word pelacur used over and over again by her ex. Hence, it was a coping mechanism. Now she talks about being in a relationship with Satan, in her latest project – PEEPSHOW. Something that's a little bit darker. It's both sinfully delightful and painful. She still talks about lust and romance, but the themes are different. It's still in drafts, the show is still in play on auto pilot mode.