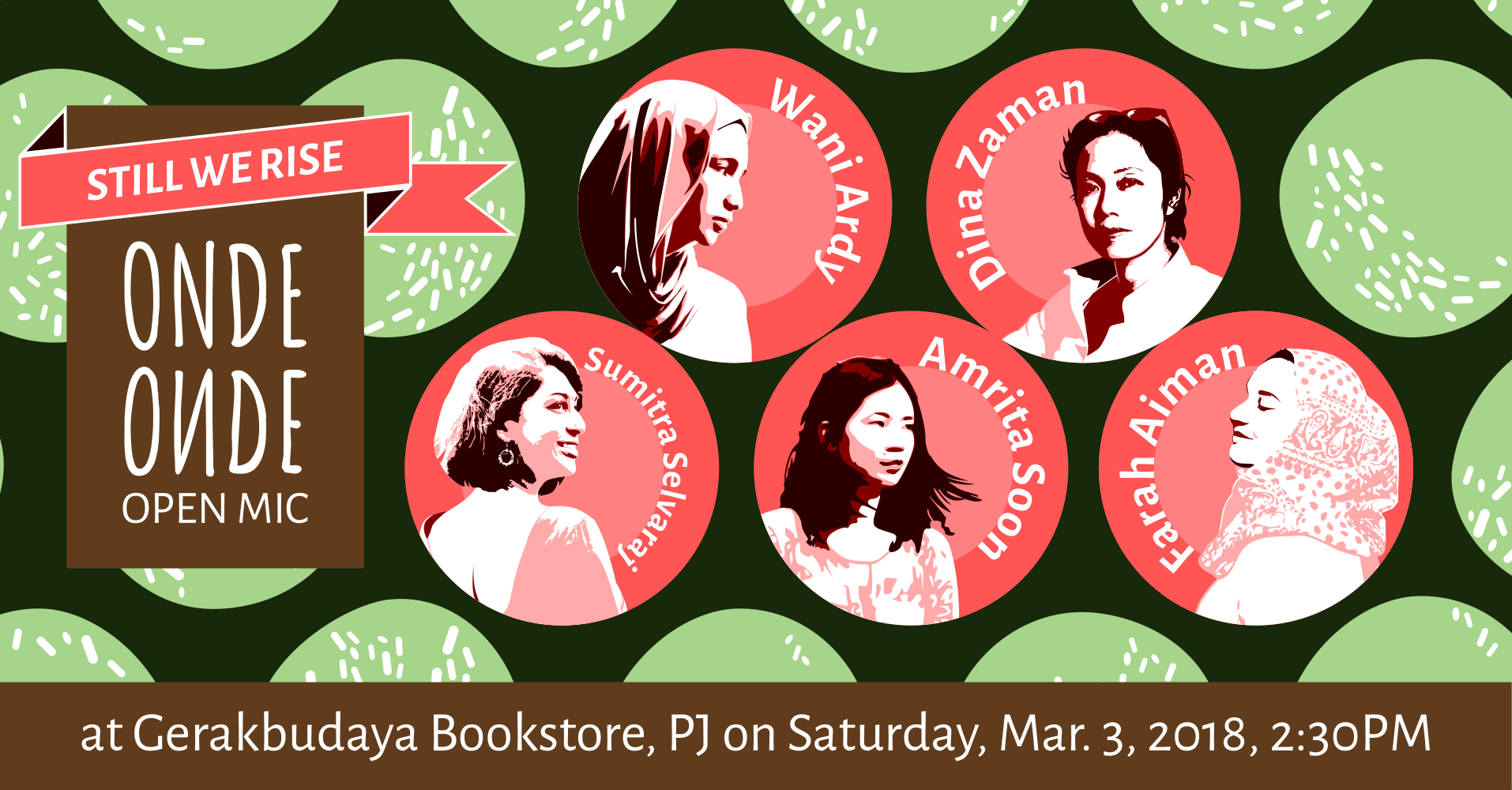 Happy International Women's Day! Gerakbudaya's fourth Onde Onde Open Mic celebrates ordinary women whose extraordinary courage inspires change. Onde Onde is a monthly multi-genre open house of Malaysian secrets and narratives — with childhood snacks and discounts on select books.
Gerakbudaya — 'movement of cultures' — is a community hub and bookstore of critical and alternative perspectives and hidden histories of Southeast Asia and the wider world.
FEATURED ACTS:
AMRITA SOON is a singer and songwriter from Kuala Lumpur, Malaysia. She started creating music as a way to drift out from the chaos of life. In 2013, Amrita was named the 'Breakthrough YouTube Star' award at DIGI's WWWOW Awards. Since then, Amrita performed extensively in Malaysia. She also travelled to Nashville, Tennessee where she was featured at various songwriter nights and performed her original songs alongside the likes of Ella Mae Bowen and Lance Carpenter. In December 2014, she released her first EP 'Clues' at the age 18. Earlier, her song 'Goodbye' was picked to be included in the compilation album 'Rock for Ronan', released in the US to raise funds for The Ronan Thompson Foundation in support of research on childhood cancers. In 2016 Amrita was awarded the 'Audience Choice' and 'Overall Best Performance' at KLPAC's Short + Sweet 2016 organised by the Kuala Lumpur Performing Arts Centre. Amrita is currently working with pH Music on her new album. She recently released 3 new songs: '24 Years', 'Midnight in Paris' and 'Familiar Strangers'.
DINA ZAMAN is a journalist, writer, and founder of IMAN Research, whose aim is to examine the connections between society, religion, and perception in order to strengthen community resilience. For many years she worked in the media, serving as an editor and columnist at Malaysiakini.com, the Malaysian Insider, and the Malay Mail Online. Her book I Am Muslim (2007) brought together some of these essays in a study of Islamic religious life as it is lived by Muslims themselves. Her short-story collection, King of the Sea (2012) explores themes of love, grief, loss, and longing. Her latest collection of essays is Holy Men, Holy Women (2017).
FARAH AIMAN is a UM TESL graduate who is currently pursuing her Masters in English Lit in UM. She is a passionate English teacher and co-founder of Mutiara Institution Library Outreach, also known as MILO. She writes poetry when she feels like it, otherwise, her boyfriend ends up hearing her rants and wiping her tears.
SUMITRA SELVARAJ has spent the last 18 years immersed in Communication; first as a news anchor and producer of current affairs programmes and then later as a Senior Account Director with a global Public Relations firm. Most recently, she spent 3 years at the helm of an English language talk show that aired every weekday in Malaysia and Singapore. She began writing creative fiction in 2016; her short stories have been published in local anthologies and she won the 2018 Short Story Prize at the Asian Women Writers Festival in Singapore. Sumitra is also known as @sareesandstories on Instagram.
WANI ARDY is a creative writer, poet, and independent singer-songwriter. Hailing from Subang Jaya, she has been based in Ipoh since 2016. Wani wears many hats; she is writer/editor at Sang Freud Press and RIPTA, chief editor at CQ Malaysia, teacher at Pondok Puisi, founder of Pasar Boco, and has 20 years of experience in creative writing and the performing arts. Along with her band Wani Ardy & the Guitar Polygamy, she represented Malaysia at Jakarta's MOCA Festival and Singapore's Cipta Cita Festival. Of the 10 books she has published, two were bestsellers. She writes in Bahasa Malaysia, English, and Javanese.
Hosted by WENDY VAZ, lifestyle blogger and YouTuber