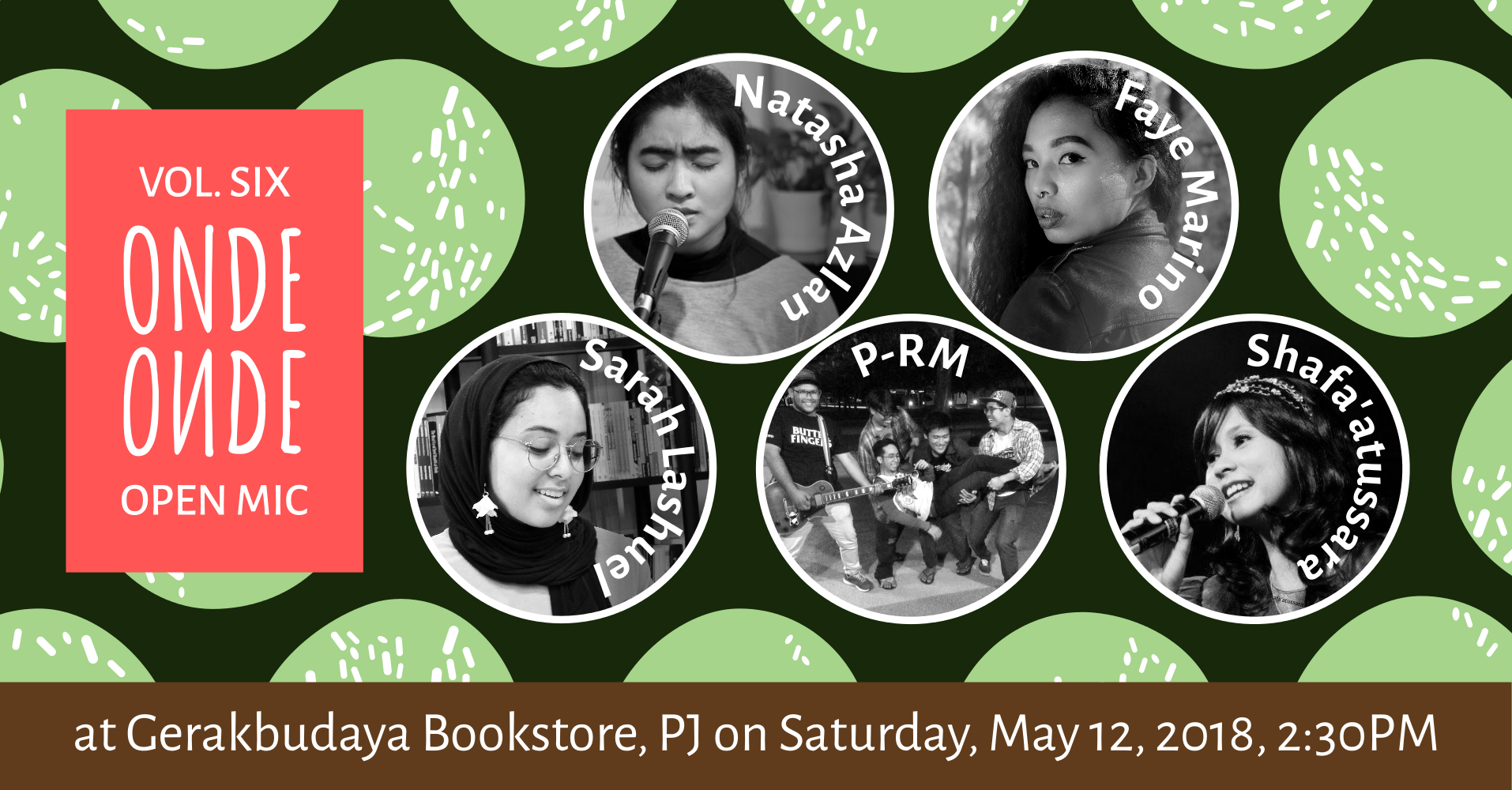 Gerakbudaya's Onde Onde Open Mic is a monthly multi-genre open house of Malaysian secrets and narratives — with childhood snacks and discounts on select books.
Gerakbudaya — 'movement of cultures' — is a community hub and bookstore of critical and alternative perspectives and hidden histories of Southeast Asia and the wider world.
FEATURED ACTS:
FAYE MARINO is a writer, a performance poet, and a daughter of Baguio. Her poetry is a form of autobiography ― a reflection of one's passions, struggles, and triumphs. She started doing performance poetry in 2012 at Mt. Cloud. Six years and a dozen scribble-filled notebooks later, she is still performing, learning and hoping to be immersed in communities that share her craft.
SHAFA'ATUSSARA SILAHUDIN started to sing since she was 6 years old. Her music genres consist of traditional, kroncong, slow pop, and ballads. In her years as an undergraduate student, she won first prizes in many singing competitions at district, state and national levels. One of her most memorable singing experiences was she represented Malaysia in Bloemencorso event in the Netherlands in April 2017. Syafa has travelled several countries including Indonesia, Singapore, Brunei, China and the Netherlands to represent Malaysia in cultural singing performances. Besides singing, she loves playing drums especially Malay traditional frame drum and gamelan. Shafa is a books lover too. Recently, she has received the title as Srikandi Syair from HujanFikir, non-government organization in Pahang, and she is one of the syair recitation experts in Malaysia.
P-RM, berasal dari KL ini bermain muzik untuk menyampaikan mesej yang dirasakan perlu kepada masyarakat yang mendengar. Ditubuhkan pada 2015 dan P-RM berharap agar medium seni diguna sehabis baik sebagai pengantara hal-hal penting sekitar masyarakat.
NATASHA AZLAN is an open-micer with an inclination towards jazz and folk, and one who covers 'Love Is A Losing Game' all too often.
SARAH LASHUEL is a New Yorker who left home and found pieces of it everywhere she went. In Malaysia as a full time student doing a Bachelor of Arts in English at the University Of Malaya. The other day she had banana leaf and ate with her hands and did not bring shame to her local friends so she's settling well here.
Hosted by WENDY VAZ, lifestyle blogger and YouTuber