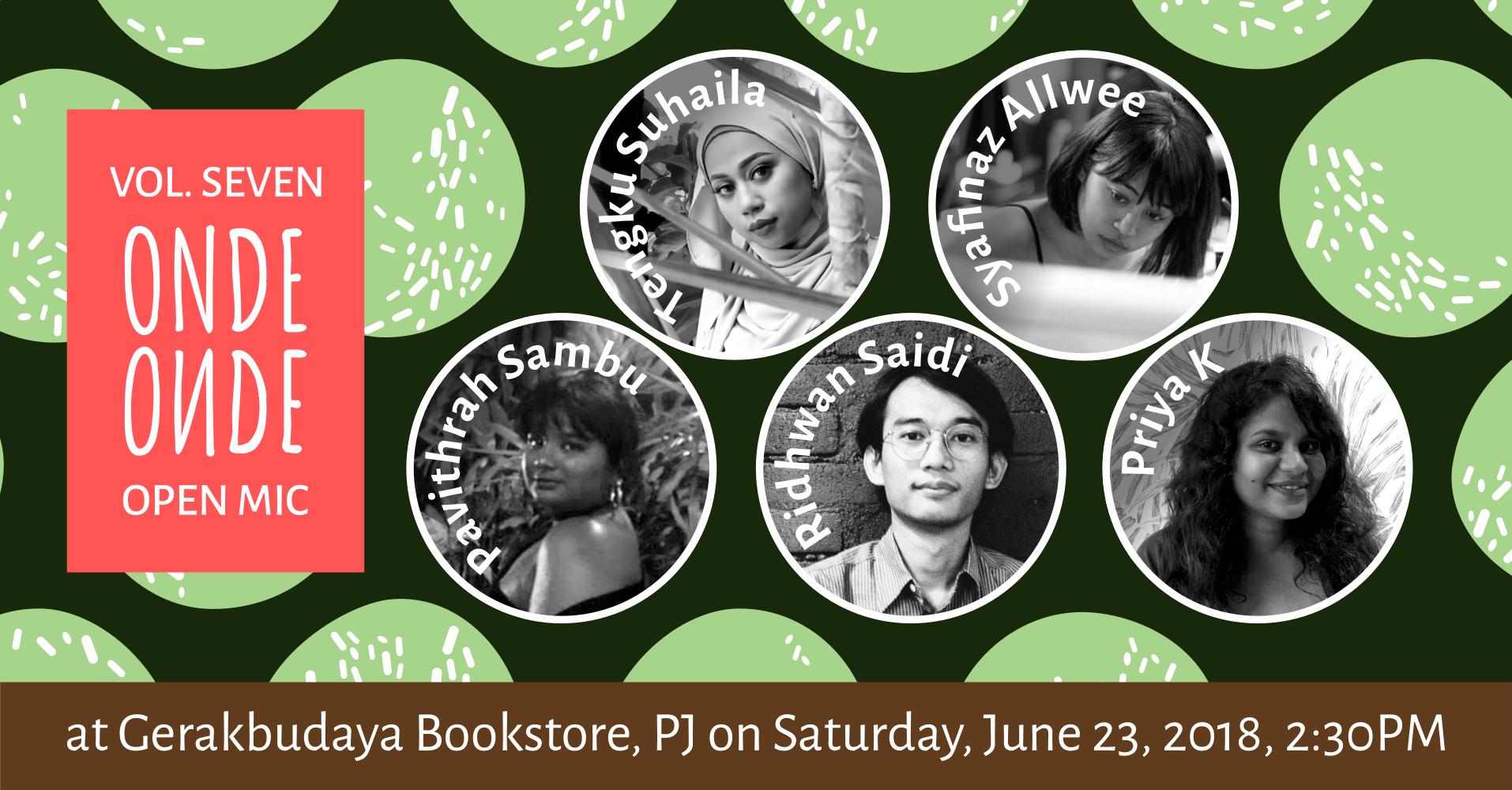 Celebrate Raya at Gerakbudaya's open house of music, stories, and poetry! Onde Onde Open Mic is a monthly multi-genre showcase of Malaysian secrets and narratives — with childhood snacks and discounts on select books.
Gerakbudaya — 'movement of cultures' — is a community hub and bookstore of critical and alternative perspectives and hidden histories of Southeast Asia and the wider world.
FEATURED ACTS:
PAVITHRAH SAMBU is a poet whose poems are essentially glorified melancholia overdosed on bru coffee & thosai poddi. Manifesting her psychotropia into art. Be prepared to hear the risqué.
PRIYA KULASAGARAN is a freelance writer, recovering journalist, and occasional poet. After dabbling in writing for theatre and film, she is now exploring games development and is working on a horror-themed mobile game. She spends most of her time on Reddit or with a bottle of wine.
RIDHWAN SAIDI is a Malaysian novelist and playwright. His series of short plays, 'Teater Modular', consisting 13 playlets, was produced to critical acclaim. The works have been described as 'politics, sex and religion existing in harmony' and 'absurd and weirdly sexy'. Ridhwan runs an indie publishing house, Moka Mocha Ink (mokamochaink.com) which focuses on contemporary Malay fiction. He is also part of the LiteraCity research team, a literary mapping project of Kuala Lumpur. Ridhwan was selected for a residency programme at the ASEAN Literary Festival 2016 and was invited to the Makassar International Writers Festival 2017. Kaos Nol is an open collective establish by Ridhwan for theatre-making or art and theatre related activism such as bi-weekly reading and impromptu lepak session based in Kuala Lumpur.
SYAFINAZ ALLWEE studies Biotechnology at University of Malaya and draws about Malay women and sexuality.
TENGKU SUHAILA is a singer-songwriter based in KL. Her music style echoes the sounds of R&B/Soul. She finds a certain kind of fulfillment in music, and inviting people a little bit into her headspace. She enjoys doing bedroom covers & performing. Currently in the process of rediscovering writing, composing, & finding her platform. 💕
Twitter: @suerockss | Instagram: @suerockss
Hosted by MAMTA THAKER, law graduate passionate about music