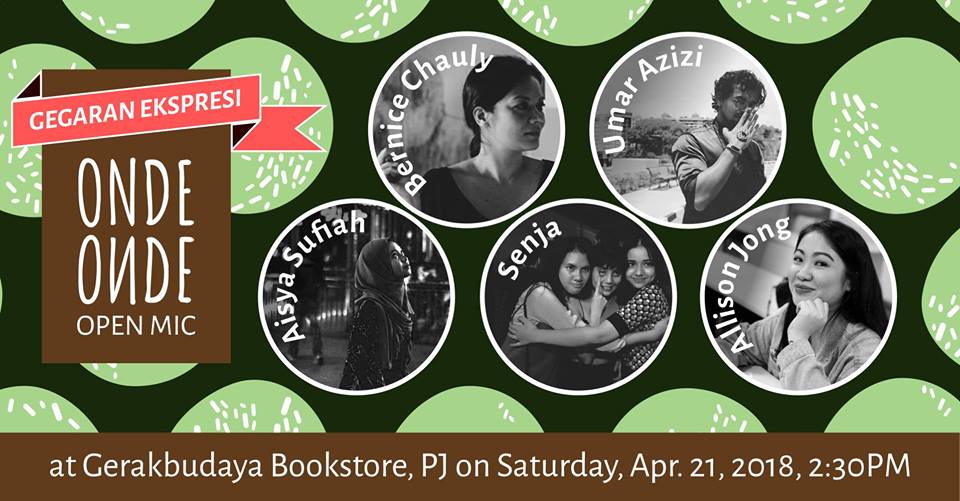 With an eye to Malaysia's upcoming 14th General Election, Onde Onde Open Mic unleashes a surge of expression — Gegaran Ekspresi — to celebrate the right to express yourself and your freedom to voice different and new ideas!
Onde Onde is a monthly multi-genre open house of Malaysian secrets and narratives — with childhood snacks and discounts on select books.
Sign up for the Open Mic: goo.gl/forms/0P0885PQQCODt6Gw1
Gerakbudaya — 'movement of cultures' — is a community hub and bookstore of critical and alternative perspectives and hidden histories of Southeast Asia and the wider world.
FEATURED ACTS:
BERNICE CHAULY is a Malaysian writer, poet, educator and festival director. Born in George Town to Chinese and Punjabi teachers, she read education and English literature in Canada as a government scholar. She is the author of six books of poetry and prose: going there and coming back (1997), The Book of Sins (2008), Lost in KL (2008), Growing Up with Ghosts (2011), which won the Readers' Choice Awards 2012 in the non-fiction category, and a third collection of poems, Onkalo (2013), described by J.M. Coetzee as 'direct, honest and powerful'. For 20 years she worked as a multidisciplinary artist and is recognised as one of the most significant voices of her generation. Since 2011 she has served as director of the George Town Literary Festival, shortlisted at the International Excellence Awards at the London Book Fair 2017, and is an Honorary Fellow in Writing at the University of Iowa's International Writing Program (2014). She currently teaches creative writing at the University of Nottingham Malaysia Campus. She is also the founder and director of the KL Writers Workshop. Her critically acclaimed debut novel, Once We Were There, was published in 2017.
Writing verse for ALLISON JONG comes a lot easier than writing bios.
SENJA is an all-girl indie punk experimental band who will hopefully be able to make you smile. "We want you to laugh with us but if you want to laugh at us, that's fine too."
UMAR ABDUL AZIZI currently writes poetry, scripts, confessions. He sells Chinese herbal tea and also performs poetry when he can. Find him at @MakhlukSeni for random art stuff or @allnighterprod for theatre and film on Insta and Twitter. For the teas? @yummcha_
AISYA SUFIAH HAZLAN is a music enthusiast. She used to watch her mom play the keys since she was 5 and later gained interest in music. She was brought up listening to opera, Broadway and even Pink Floyd. At the age of 7, she started to take piano lessons. As she grew older, she learned by herself how to compose songs so later she quit her exam-oriented piano lessons because she thought that music is a way to express. As a result , she started to sell her songs at the age of 15. At the age of 16, she put all her effort in music and later won a gold medal and represented her state. After high school, she wanted to search for a purpose in life and deep down she always knew that music is her purpose. She was supposed to buy a new phone since her last one was damaged, but she brought a synth instead and joined a band that she found on Twitter called Jetcetera. Since then, she knows that she has found a purpose in life which is to express and reach out to youths with music.
Hosted by MAMTA THAKER, law graduate passionate about music.