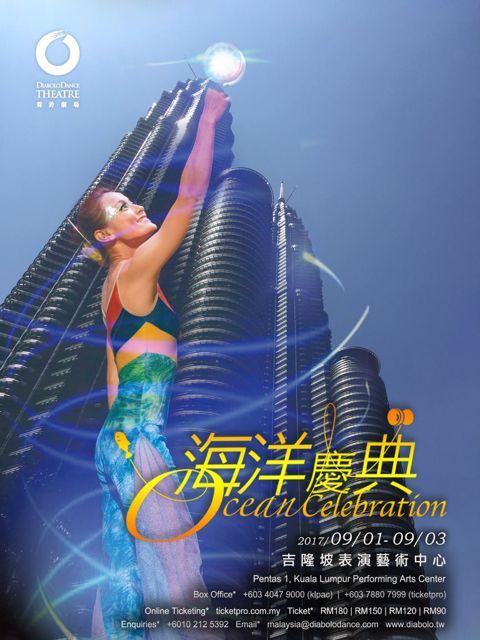 Diabolo Dance Theatre (Taiwan) was formed in 1986. It is a professional performing arts team which is recognised by Taiwan's National Culture and Fine Arts department. Diabolo Dance Theatre has performed more than 2000 shows in over 30 countries around the world, including at landmark theaters and arenas such as the Taipei National Theater, New York Lincoln Center, Hummingbird Arts Center in Canada, and Aichi Expo Dome in Japan, Taiwan Pavilion Expo2010.
Diabolo Dance Theatre (Malaysia) was formed in February 2016. Our office is located in Seri Kembangan, Selangor. Diabolo Dance Theatre (Malaysia) provides performances such as commercial performance, professional theatre performance and customised performance's project. Our performance contents including diabolo, music, dancing, acrobatics, media, lighting and visual effects, the performing artists are all from Malaysia and Taiwan. We are looking forward to provide a better performing arts and entertainments to Malaysia and Asia.
Diabolo Dance Theatre (Malaysia) has performed at a few landmarks such as National theatre of Taiwan, China's Dalian sports arena and Macao's Venetian Macao-Resort-Hotel. Welcome to yet another unmissable performance from Diabolo Dance Theatre.
---
Presenter: Diablo Dance Theatre
Date & Time: 1 – 3 September 2017 @ 8pm; 2 – 3 September 2017 @ 3pm
Venue: Pentas 1, klpac
Ticket Price: RM180 / RM150 / RM120 / RM90
Promotions:
Early Bird (Before 31 December 2016): 15% discount – RM153 / RM128 / RM102 / RM77
Four Pax Package: 10% discount – RM162 / RM135 / RM108 / RM81
20 or more group purchase: 15% discount – RM153 / RM128 / RM102 / RM77
50 or more group purchase: 20% discount – RM144 / RM120 / RM96 / RM72
100 or more group purchase: 30% discount – RM127 / RM106 / RM85 / RM64