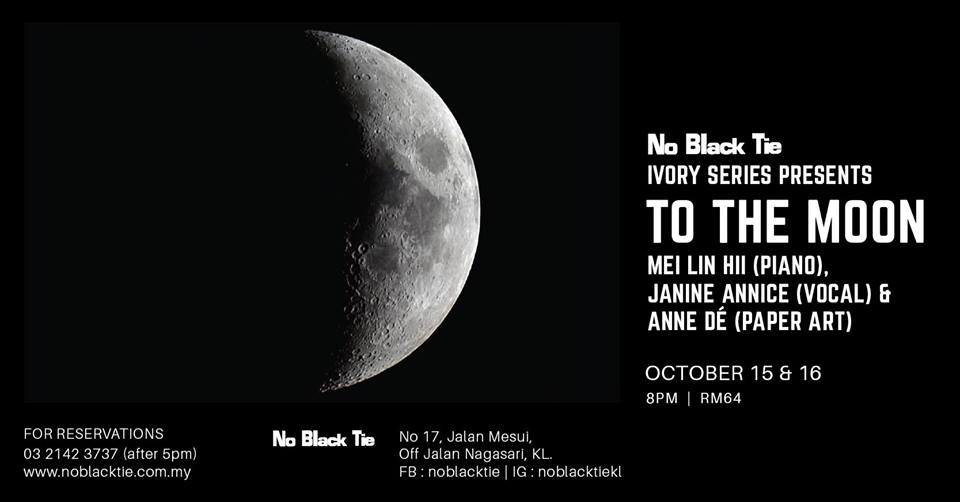 No Black Tie Ivory Series presents 'To The Moon' –
An evocative journey to the moon with Jean-Philippe Rameau, Louis Couperin, Ludwig van Beethoven, Henry Purcell, and Gluck. For October Ivory Series, Mei Lin Hii invites once again visual artist Anne Dé, with special guest Janine Annice.
Classical pianist Mei Lin Hii holds a Master of Music Degree and Professional Studies Diploma from the Manhattan School of Music in New York. There she studied with renowned teacher Zenon Fishbein. Prior to that, she was a student of Michael Ruiz at the American Conservatory of Music , Chicago. Mei Lin has performed in piano masterclass with world-renowned pianist-teachers such as Leon Fleisher, Byron Janis, Nina Svetlanova and the late Shura Cherkassky.
Anne Dé is a self-taught French artist. For more than ten years she has been a paper artist, doing her own hand-made paper with various fibres, working the transparency and texture of the paper for lighting, installations, interior and theater design.
Since beginning of 2014, she is also focusing on other media.
London is not an easy city, but it's well known as a place from which to derive a rich cultural experience. Musicians often emerge armed with an unmatched sincerity and depth; it is the birthplace of many a musical legend. Being a part of a scene where fresh sounds waft from basements of young revolutionaries is a rite of passage. The underground millennial zeitgeist? Hip-hop meets jazz.
October 15 & 16, 8.00pm
Admission fee RM64 (add our optional Set Dinner in your checkout to enjoy our lovely dinner menu)
Don't miss out on our happy hour promo on tapas, beer (by the bottle), wine (by the glass), cocktails and spirits (by the glass) from 6-8pm (Sundays to Thursdays only)!
*RM10 off for students with valid Student ID, at the door.
Event Dates
Venue
Website
Tickets Link