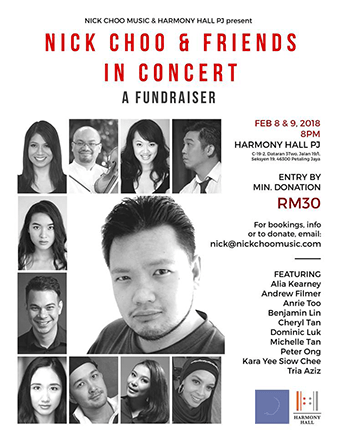 Hi all, this is a two-night concert co-presented by Harmony Hall PJ and myself, Nick Choo, to raise funds to help my brother who has had to go for cataract surgery due to diabetes (type I)-related complications. Join me and my performing artiste friends for two nights of original songs composed by yours truly for various musicals and projects.
The stellar line-up consists of some of the best talent from Malaysia's musical theatre scene: Alia Kearney, Anrie Too, Benjamin Lin, Cheryl Tan, Dominic Lucien Luk, Karayee Siowchee, Michelle Tan, Peter Ong and Tria Aziz, performing songs from my musicals "The Edge", "Follow The Light", "Dreaming Outside The Box" and much more!!! Accompanied by yours truly on piano, with special guest musician Dr Andrew Filmer on viola.
Seats are available for a minimum donation of RM30 per person. Proceeds will go towards my brother Kevin's cataract surgeries as well as related medical care.
For inquiries, to book your seat(s), or to donate, please send an email to [email protected] Thank you.