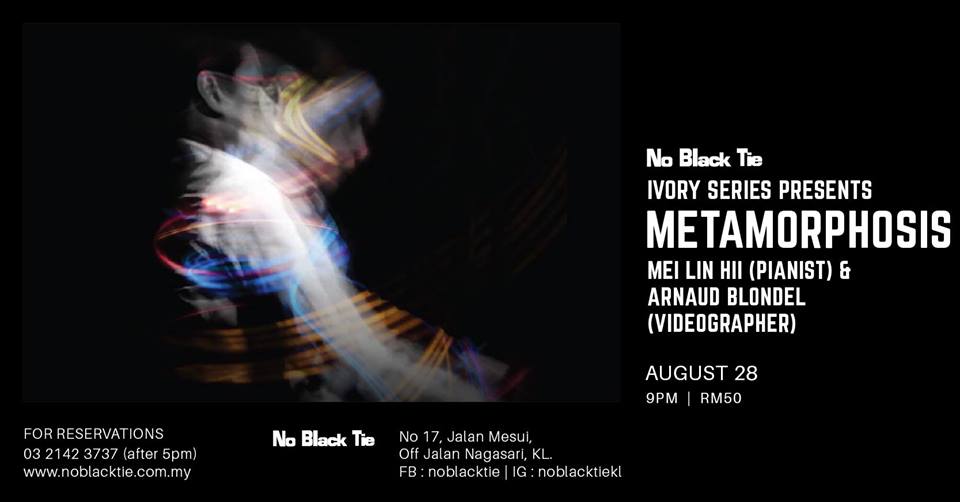 NBT Ivory Series presents "Metamorphosis" with Mei Lin Hii (pianist) and Arnaud Blondel (videographer).
Classical pianist Mei Lin Hii holds a Master of Music Degree and Professional Studies Diploma from the Manhattan School of Music in New York.
There she studied with renowned teacher Zenon Fishbein. Prior to that, she was a student of Michael Ruiz at the American Conservatory of Music , Chicago.
Mei Lin has performed in piano masterclass with world-renowned pianist-teachers such as Leon Fleisher, Byron Janis, Nina Svetlanova and the late Shura Cherkassky.
Arnaud Blondel discovered the power of images at a tender age. Between his job today as a videographer and his passion for art, he loves to associate video projection with dance.
This time, it is with the instrument and its interpreter that he will dance his images to.
August 28, 9.00pm
Admission fee RM50 (add our optional Set Dinner in your checkout to enjoy our lovely dinner menu)
Don't miss out on our happy hour promo on tapas, beer (by the bottle), wine (by the glass), cocktails and spirits (by the glass) from 6-8pm (Sundays to Thursdays only)!
*RM10 off for students with valid Student ID, at the door.
Event Dates
Venue
Website
Tickets Link