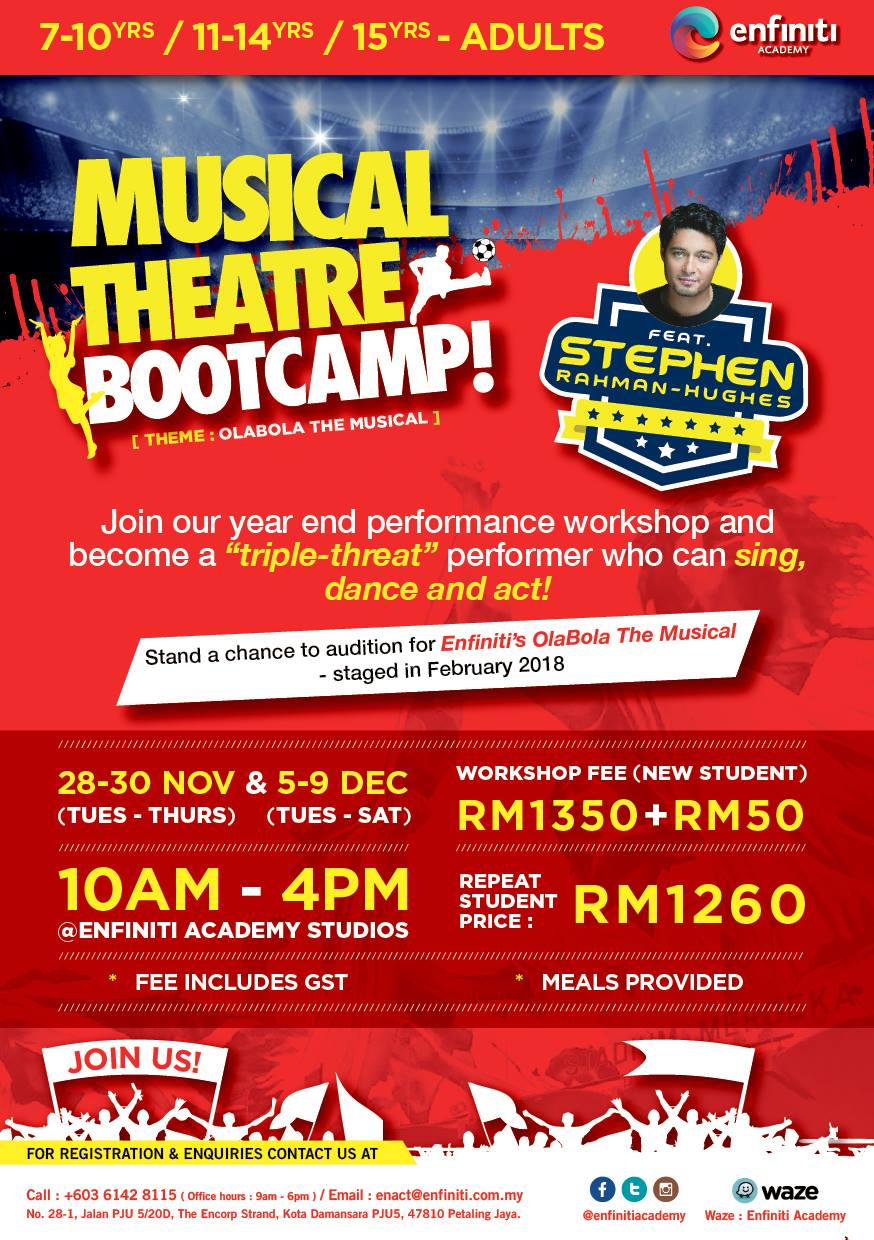 Enfiniti Academy's Annual MUSICAL THEATRE BOOTCAMP IS BACK!!!
Enfiniti Academy's exhilarating Musical Theatre Bootcamp program is back! It is an intensive workshop to prepare all budding superstars in the hope of becoming the next big performing arts "triple threat" or simply put, an individual who will be able to sing, dance and act simultaneously! Or it could be an opportunity to do something different, creative and unique.

This year's 8-day boot camp workshop will give students the opportunity to be trained by a West End Star, fresh from Disney's musical "Aladdin" in London, the award-winning "triple threat" himself, Stephen Rahman-Hughes. The British-Malaysian is an accomplished dancer, singer and actor having played lead roles in productions such as West End's "Bombay Dreams" and our homegrown "Puteri Gunung Ledang The Musical".
This workshop will also give students an exclusive chance to audition for "OlaBola The Musical" that will be staged in the newly renovated Istana Budaya from 8 February until 11 March 2018.  Participants will be auditioned during the showcase on the last day of the workshop (Saturday, 9 December 2017)
Don't miss out, sign up NOW!
Details on the workshop as per below:-
Date: 28 – 30 Nov & 5 – 9 Dec (8-day boot camp)
Showcase Presentation Day/Date: Saturday, 9 December 2017
Age Groups: 7 – 10 years  | 11 -14 years  | Young Adults
Admission: RM1,350 (new student) | RM1,260 (repeat student)
+RM50 – one-time registration fee for new students
*Fee includes 6% GST
*Meals will be provided