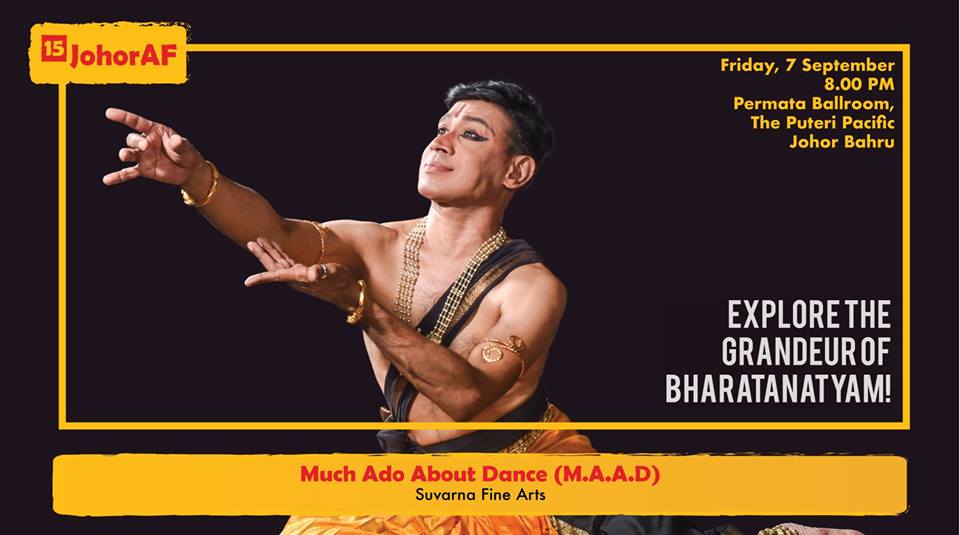 Explore the beauty and grandeur of Bharatanatyam with internationally acclaimed dancer and choreographer Ajith Bhaskar, together with the Suvarna Company dancers!
Bharatanatyam is one of the most fluid art forms that has the comprehensiveness to explore any idea or theme.
More than just a repertoire, it is a universal language that translates thoughts and emotions through movement, melody, mime and words.
This 60-minute performance will showcase the versatility of this dance form with a unique selection of dances set to various genres of music within the Indian classical music framework.
And if you're new to Bharatanatyam, not to worry – Ajith himself will be delivering a brief pre-show lecture demonstration to highlight the salient features of Bharatanatyam, providing insights into the pieces to be performed and opening fresh perspectives and deeper appreciation for the intricate and revered South Indian classical dance form.
The pre-show lecture will start at 8pm followed by the show itself at 8.30pm.
Online Purchase: RM 100 (VIP), RM 50 (Regular), RM 30 (Student)*
At Door Purchase: RM 120 (VIP), RM 60 (Regular), RM 36 (Student)*
* Please present your Student ID at the registration counter
For inquiries, call 019 7139900
Click this link to get your passes.
https://15johoraf-maad.peatix.com/view
Ajith Bhaskar
Ajith Bhaskar is one of the most accomplished male Bharatanatyam dancers of his generation. A lawyer by training and dancer by choice, his devotion to dance is absolute.
Ajith with his "Nureyev appeal"(Los Angeles Times) has shone on stages around the world, including prestigious venues such as the Lincoln Centre and the Joyce Theater on Broadway.
Suvarna Fine Arts
For over two decades, Suvarna has been recognized as one of the most active catalysts of Bharatanatyam in Malaysia.
Based in Johor, Suvarna's distinct and original works present authentic classicism on the contemporary stage with universal appeal.
Suvarna boasts an impressive repertoire of professional collaborations both locally and abroad.
Suvarna is recognized for vibrant dance renditions, striking choreography and innovative theatrical presentations in keeping with its desired objective of promoting and nurturing classical dance, Suvarna continues to train a succession of dancers through its various branches in Johor conducted by senior graduates of the academy.