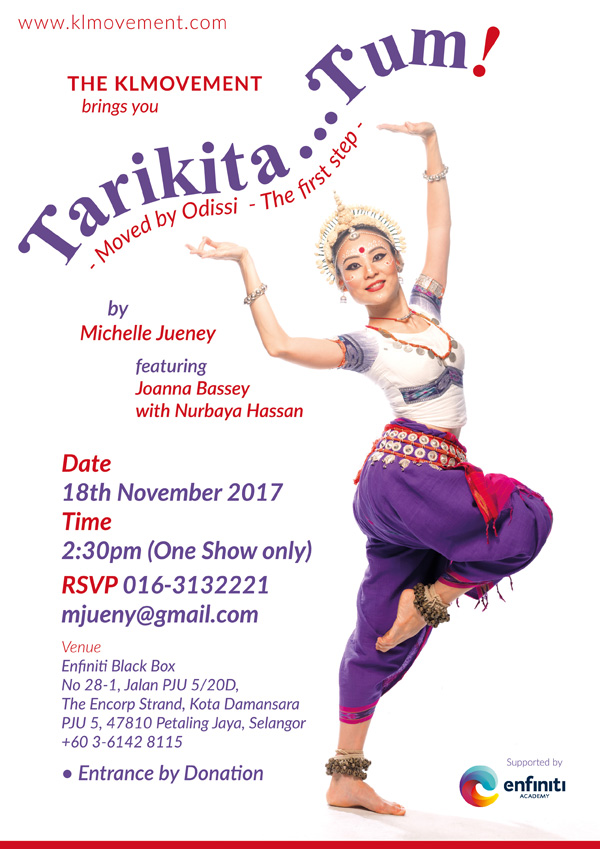 On the 18th of November, I will be having an explorative informal dance showcase called Moved by Odissi – Tarikita…Tum! – The First Step, will be performed at the Black Box in Enfiniti, Kota Damansara. I did the concept, writing and artistic direction for the show and hope I can interest you to come watch it. Below is a brief synopsis of the show. Entrance is by donation and you can drop me a note to RSVP in this email [email protected] or on 016-3132221.
Featuring Joanna Bessey who will be presenting the show together with Nurbaya Hassan for my introduction and for parts that I have written.
I hope to see you. It is a small showcase and your presence will be much appreciated.
RSVP 016-3132221 or [email protected]
MOVED BY ODISSI – TARIKITA TUM! – THE SYNOPSIS…
How did a Chinese girl fall in love with the oldest Indian Classical Danceform of Odissi originating from India, the state of Orissa to be exact? How did she enter into this ancient world of Arts, Music and Dance?
From my first encounter to the first dance I learned, come share with me into a glimpse of darkness and light about a Malaysian girl who was saved by Dance.
Best,
Michelle
Love, Life & Light,
Michelle Jueney
Dance Artiste & Dreamer
www.klmovement.com / +6016.313.2221
• For Artists, The Arts & All •